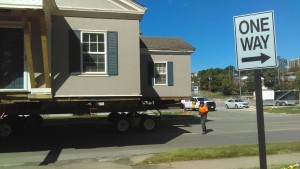 Alright ladies, gently pull on your unstained white gloves and straighten your sun hats, we're moving the house today. No, really, the members of Kansas City Young Matrons Club stood outside watching their precious clubhouse doddle down51st street and over to Cherry Street, one member was wearing a fedora.
Just in case you missed it, the house did move, they put it on wheels and shipped it off in order to make room for delicious, overly priced organic hippy food which will fill the new Whole Foods taking its place.
The Young Matrons Club prides itself on being a women's volunteer organization, using this moving house to act as a meeting place. The Young Matrons Club has over three hundred women who, together, donate 15,000 hours of community service each year. That's approximately 50 hours of community service per woman, or one hour a week. They work on projects such as the upcoming ball: "Do You Believe in Magic?" and the Installation Day Tea. This colonial house is of the utmost importance to these women.
The home was built in 1936 and in 1998 it became a part of the Kansas City Register of Historic Places. So, how did the project developers convince the women of the Young Matrons Club to move their historic little home? They promised them a new kitchen of course, as well as new plumbing, wiring and a higher roof, all irrelevant, though, since the new kitchen will be just so fabulous.
Back in the day the house was used for the upper-class white ladies to sit around in their pastel bonnets playing bridge while drinking tea and absolutely never gossiping. The difference between these ladies and today's middle school girls is simply middle school girls typically don't wear bonnets.
Moving the house allowed the women of the Young Matrons Club to be perched atop a hill and continue filling their afternoons with the benefits of bring prim and proper.