Former Olympic diver and gold medalist Greg Louganis joined local donors and politicians at the eighth annual UMKC Pride Breakfast.
Louganis discussed not only his experience as an Olympian, but also as a gay man with deeply personal struggles. He talked about growing up as child with dyslexia and being called "slow." Louganis said that when kids and teachers called him stupid, he believed it. It was not until college that he learned he was dyslexic. He talked about loving dancing as kid but being called a "sissy" by the other kids.
Louganis recounted a time when someone asked him what he would write to his 16-year-old self, and shared his response with the audience:
"Dear 16-year-old Greg," the letter began. "I know you're not gonna believe me, but life is going to get better. And, actually, the darkness and the grays you've been living in the past will disappear. Young man . . . I desperately want to hold you right now. You're a lovely and sensitive and caring young man. I know you don't see that right now, but you are worth more than you know. That feeling of failure will pass, and you will, in time, allow people in, instead of pushing everyone away . . . It's okay, you will survive your suicide attempts, and something glorious will happen. . .You will start questioning why you are here and will realize God doesn't make mistakes."
At the 1988 Seoul Olympics, Louganis took home the gold despite suffering a concussion form hitting his head during the preliminary rounds.
In 1994, Louganis published his autobiography, Breaking the Surface, revealing not only that he was gay, but also that he was HIV positive at a time when it was essentially a death sentence. Louganis was diagnosed in 1988, and talked about taking AZT every four hours.
In addition to being an athlete and author, Louganis is an actor. He has appeared on stage and screen, most notably in Portlandia and Entourage.
At every table were cereal boxes with Louganis' picture glued on it, a lighthearted way to honor a man who never got his own Wheaties box.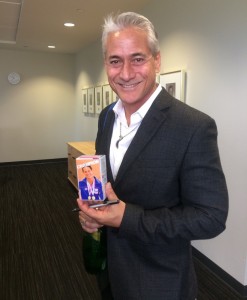 Following the breakfast, Louganis sat down at a meet-and-greet with some students. Mac Reese, a recent UMKC grad, was elated to chat with Louganis.
"It was so surreal getting to meet him," Reese said. "I saw the Olympics [in 1984 and 1988], I saw when he hit his head, and there was talk me might not dive the next day. And then he got up and dove, and it showed everyone his fortitude. . .I can't put into words how it felt to meet him today."
Reese, who was also diagnosed as HIV positive, remarked on the similarities he and Louganis shared.
"It's almost like a club that you belong to," Reese said. "Not one you want to belong to, and there's just this brotherhood or sisterhood that you have in common."
The Pride Breakfast is a fundraiser for LGBTQIA scholarships at UMKC. Before Louganis spoke, three scholarship recipients shared their own personal stories. Daniel Parnell, the current president of Pride Alliance, shared his experience as a recipient of the LGBTQIA Leadership Scholarship.
Parnell expressed extreme gratitude towards those who made the scholarship possible, and said the breakfast was one of the events that made his time at UMKC "so remarkable."
"My experiences as a gay man, however, have not been so remarkable," Parnell said. "I come from a smaller conservative town . . . a little place called Springfield, Missouri." The name elicited empathetic groans from the audience, who were most likely remembering last year, when Springfield voters repealed protections for LGBT people.
"When I came to UMKC, it was definitely a big culture shock," Parnell said. Parnell talked about dumping his shyness and finding himself increasingly involved in Pride Alliance activities, culminating in his current role as president.
Mayor Sly James and Councilwoman Jolie Justus, an openly gay UMKC alum, gave brief speeches blasting Missouri Republicans for Senate Joint Resolution 39, which would allow organizations and businesses the right to discriminate against same-sex couples. They also endorsed Missouri Attorney General Chris Koster, who was also in attendance, for Missouri Governor.
"I'm constantly aware how insensitive and a little bit crazy it is for us to be talking about SJR 39, to allow constitutionalized discrimination than to find ways to unite this country, this city and this state," James said. He then called Koster "the next governor of Missouri."
"It's important that he is the next governor of Missouri or we will see increasing craziness coming out of Jefferson City," James said.
Justus appeared alongside Chancellor Leo Morton. Justus recognized Jackson County legislator Scott Burnett and Councilman Quentin Lucas, who were both in attendance. She then talked about the importance of Koster becoming governor.
"Many of you over the years have heard me say that if we don't have a seat at the table, we're probably on the menu," Justus said. "That's the truth. Last week in Jefferson we saw what happened when you don't have openly gay officials in the statehouse. What we have in Attorney General Chris Koster is an ally who stands shoulder-to-shoulder with us, fighting on issues of equality. I know he's going to be our next governor, and the fact that he's here today makes me absolutely thrilled that he supports equality at UMKC at this level."
The breakfast ended with a performance by the Heartland Men's chorus, who encouraged all the attendees to "come out!"