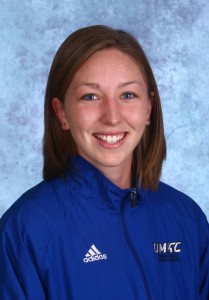 Aubrey Frederking, a junior majoring in nursing, ran her way to success recently when she broke the womens' mile run record for UMKC. Her time was 5:06:75 and getting this record was no easy feat.
She started running in seventh grade while living in Plainville, Kan. and has never looked back. Now she trains for long hours in order to hone her skills.
"We do strength work, we do weight lifting…it definitely keeps you busy," Frederking said.
According to Frederking, growing up in a small town brought challenges because her school did not have a large athletics department. Nonetheless, she has always been involved with sports and considers herself somewhat of a tomboy.
She said she enjoys the competitive drive that comes with sports and decided to stick with track after she found success with it.
She certainly enjoys the feeling of accomplishment.
"When you can say that you already ran 10 or 11 miles [in the morning], you have accomplished something. Knowing that you can get your body to do that is really cool," she said.
Overall, she rates her track experiences with high regards.
"It's been phenomenal," she said.
mdavis@unews.com