Students, teachers and community members gathered into a private room at Charlie Hooper's Bar & Grill to eat, drink, play games, and watch the debate at the Pints and Politics event hosted last Tuesday by American Public Square.
Among the attendees were UMKC Professor Greg Vonnahme and John Sharp, a university alumnus.
The event began by passing out bingo cards and raffle tickets for attendees to fill out.
Attendees scanned their bingo cards in search for words they were to listen for during the de-bate.
The room filled with laughs and sarcasm as Kaine and Pence went back and forth in rapid fire.
When asked about the election a UMKC student had very little to say.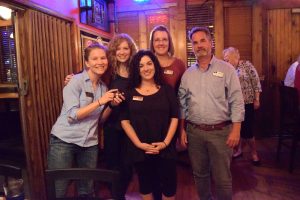 "This whole election's a big joke, but I love the American Public Square," she said. "I really like how they bring people together."
The American Public Square was founded by UMKC Professor and former U.S. Ambassador to Portugal, Allan Katz.
The nonprofit organization continues to bring together people of different backgrounds and opposing views in order to create a better understanding within the community about world issues.
Toward the end of the event Kim Jacobs, APS Executive Director, pointed attendees toward a voting registration booth.
"Don't forget," she said. "Get out there and vote."
Cemuakhagbon@unews.com