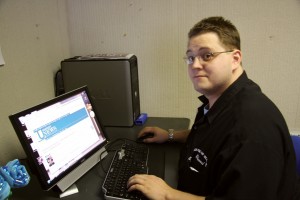 U-News Online Editor Ethan Parker will graduate with a bachelor's degree in journalism and film. This will be in addition to his associate's degree in liberal arts, as well as a paralegal degree.
His favorite course changes each semester, but he admits he thoroughly enjoyed Dr. Thomas Poe's course on "The Worlds of Alfred Hitchcock."
"There's nothing like taking a look at films by Alfred Hitchcock and having the chance to see them on the big screen at the Tivoli," he said.
Parker said he enjoyed being the "faceless entity" of the U-News:
"People know I exist, but not who I am. I like to think of myself as the 'Phantom' of the U-News working meticulously behind the scenes like a great puppet-master. I'm not a sports fan, so I didn't pay attention to anything from that end of the spectrum, and a lot of activities that were offered really didn't appeal to me."
He said Professor Robert Unger had a large impact on his UMKC experience.
"He made me see how much I enjoy journalism and writing once again," he said. "His enthusiasm and experience was instrumental in my changing my major and learning a lot about the world."
After graduation, Parker will stay in the Kansas City area. His wedding date is May 2013, and he is working to save up money. He will also continue to plan his annual tabletop gaming convention, KantCon, and would like to attend law school in the future.
"When I started out at UMKC, I wanted to do more extracurricular activities within the UMKC setting, but that just didn't happen," he said. "I would tell incoming freshmen to relax. The instructors and students here are very laid back, and you can learn a lot from them if you take the time to do so."
mheiman@unews.com