As Chris Wolff addressed the audience of alumni and faculty last Wednesday evening in the Miller Nichols Library, he raised an important question:
What would the average student would say if asked to explain why we refer to one of our campuses as the Volker campus.
"They would probably tell you that it's because it is on Volker Boulevard," said Wolff. "And how would they know any different? It's not their fault they don't know that our campus is named after one of our founders, William Volker."
This lack of knowledge regarding UMKC's past is part of what inspired Wolff to spend two years researching the history of the institution. His research culminated into the publication of A Pearl of Great Value: The History of UMKC, Kansas City's University, which chronicles the school's evolution from an elite liberal arts school to an urban-serving public university.
"A lot of history at our university has been lost," said Wolff, who graduated in 2012 with his master's degree in Higher Education Administration and is also the General Merchandise Manager at the UMKC Bookstore.
While working towards his graduate degree, Wolff took a class on the history of higher education and was required to research a historical event in UMKC's past. This research sparked an interest in the institution's history that would eventually lead him to the publication of his book.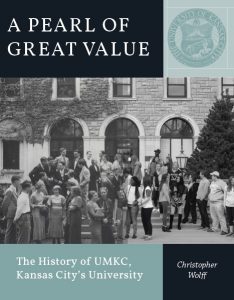 Diane Beatty, who serves as Vice President of Communications for UMKC's alumni association, introduced Wolff at the book signing event. All of the proceeds from Wolff's book will go to the Alumni Association, which will use the money to fund scholarships. She expressed pride and excitement that the project is now available to the public.
"I've seen people tonight looking at old photos and reminiscing about their times at the University, and that is wonderful," said Beatty. "Our hope is that a book like this will speak to individuals of all years who attended."
Wolff echoed Beatty's sentiment, describing different generations of students as squares on a quilt. "Our underlying shared history is the backing fabric of that quilt," said Wolff. "It ties all those generations together."
Wolff's presentation gave a broad overview of the information in the book, providing the audience with many interesting and humorous historical anecdotes.
The murals on the second floor of Haag Hall, for example, were painted by the Spanish artist Luis Quintanilla. "Most of his work was destroyed after World War II, so those murals are almost priceless," said Wolff.
Wolff believes that gaining knowledge of the uniqueness and history behind the school can give community members a renewed appreciation for the institution.
A Pearl of Great Value: The History of UMKC, Kansas City's University is available for students to purchase at the University bookstore, where Wolff currently serves as the General Merchandise Manager.
Wolff will be giving historical tours in celebration of the book throughout the month of October. More information about these tours and Wolff's book can be found on the UMKC bookstore's Facebook page.
sdanley@unews.com