A panel of community members hailing from a wide range of expertise met last Wednesday night to discuss how Kansas City can do its part in locally implementing the hotly-debated Green New Deal.

The Green New Deal has been a topic of much discussion since it was put forth by House newcomer Rep. Alexandria Ocasio-Cortez (D-NY) and Sen. Ed Markey (D-MA).

The proposed resolution focuses on core ideas including reducing carbon emissions, maximizing energy efficiency, creating adequately-paying jobs, providing affordable and accessible healthcare, housing and higher education—among other goals.

The Sierra Club, an environmental organization, and the Sunrise Movement, a youth-led social movement dedicated to combating climate change, both co-hosted the event.
Panelists included Tara Raghuveer, director of KC Tenants, Kristin Riott, executive director of Bridging the Gap, Thomas Kimes, stormwater engineering manager for KC Water, and Sam Levey, founder of Deficit Owls.
Kansas City mayoral candidates Jolie Justus and Quinton Lucas each appeared briefly at the event and spoke about their hopes and plans for the Green New Deal in Kansas City.

Justus said that while she is proud of the steps the city has made towards being more environmentally conscious, she also believes there is a lot more work to be done.

"You may be like me, on a plant-based diet. You may be like me, privileged enough to be able to ditch your car and be car-free," said Justus. "But guess what? That's not enough. We are in the absolute most crucial time in our entire existence as homo sapiens."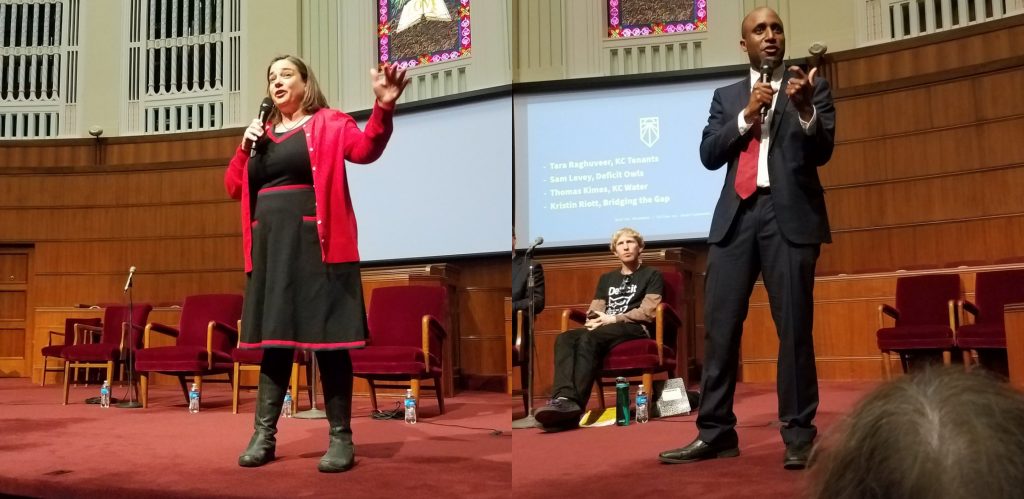 Justus lauded the recent passing of a city ordinance aimed at making Kansas City completely fossil-fuel free by 2020. However, Justus said these measures and ordinances won't be enough. She said Kansas City is predicted on Weather.com's Climate Disruption Index as unlikely to survive the upcoming climate change.
Justus went on to express her desire to keep the momentum of the recent ordinance moving forward.

"We can't stop there because if we miss this opportunity to turn that into green and blue collar jobs, to use the training to make sure that we're lifting everybody up, that we are not only solving these climate change issues, but that we are working on the issues of racial and economic inequity that we have seen in our community for decades, we're gonna be missing the boat," Justus stated.

Lucas spoke of the Green New Deal being not merely an environmental measure in Kansas City, but also one of socioeconomic equity.
"When we talk about sustainability, when we talk about environmental issues, don't be limited to what we think sometimes of what the issues are" Lucas said. "What we have to think about is how is our economic development actually perpetuating a lot of the things we're trying to change?"
Lucas cited issues such as transportation, housing and ongoing segregation as major concerns to focus on in the New Green Deal for Kansas City.
Kimes, a panelist and expert on stormwater engineering, spoke at length of the economic impact climate change will have on Kansas City.

He explained that public works projects related to water maintenance and flood prevention can take several years—even decades—to get approved and completed. Therefore, we must take preventative action now to reduce and reverse the effects of climate change because the infrastructure needed to support increased flooding due to climate change will not be ready any time soon.

Kimes described the ways in which flooding disrupts Kansas City's transportation and freight economy.

"Rail, which is one of our most efficient forms of transportation, follows the rivers. Every flood effects that distribution," stated Kimes. "When you have a central economic hub like Kansas City, which is the center of all that distribution, the floods disrupt our economy, but it also disrupts the economy of a huge section of the country."
Levey, another panelist working towards a Ph.D. in economics at UMKC, explained that paying for the Green New Deal may not be as difficult as many think.

He explained it wouldn't be very different from the original New Deal, which was instituted under President Franklin D. Roosevelt as a way of ending the Great Depression, and there are ways it could be done without creating major inflation.

Kansas City seems poised to take its place as a leader in environmental reform, but it has a long way to go.
The city cannot simply begin to implement the Green New Deal without taking a hard look at the chronic socioeconomic issues, disparities and inequities that have plagued it for so long.

However, with the right leadership, determination and public support, the panelists agreed the city might just be able to pull this off, and set itself apart as a leader in the environmental revolution.