"I've never seen people so angry," states a concerned father during the first act of O Beautiful, lamenting the divisive and tumultuous political landscape of modern day America. If the character could somehow hop offstage and join the audience, he would have to retract that statement by the end of the second act, when we see his community come together for a fiery and emotionally provocative town hall meeting.
O Beautiful addresses a large scope of political and social issues on a relatively small scale. The play contextualizes the current national debates over race, religion, sexual assault, abortion, gun control, media bias, revisionist history, and others through the experiences of a small town community. Although playwright Theresa Robeck introduces some of these themes in ways that don't feel particularly fresh, the overall package is funny, deeply emotional and thought-provoking.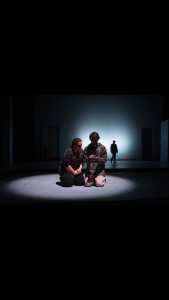 Ken Sandberg steals scenes as conservative talk show host Simon West, a perfectly overacted characterization of fear-mongering talking heads. He delivers his lines with the sing-song inflection of an evangelical preacher. In the first act, he lightens the mood with his over-the-top, satirical interpretation of the character. This humor is far from lighthearted, however. In the last act, we confront head-on the very real implications of his dangerous rhetoric when a pro-gun rant is juxtaposed with a mother mourning the loss of her child to gun violence. Credit here must also be given to Megan Sells, who convincingly portrays the hopelessness and anger of a grieving parent.
Heather Michele Lawler's embodiment of the biggest bitch in school, Gwen Turner, is another highlight. I hated her within a matter of minutes, and when you're playing a repulsive character, that is certainly a compliment. Her unattractive outburst in the second act, motivated by an overwhelming sense of guilt, is one of the most honest and poignant moments in the whole show. Lawler evokes both sympathy and disdain for Gwen by imbuing denial with sadness and humanity.
Lawler does triple duty here, as do many of the actors, creating another memorable moment when she appears on Simon West's show as Thomas Jefferson. She delivers her lines, which consist almost entirely of misogynistic quotes straight from the founding father himself, with an undeniable glimmer in her eyes. You can tell she's having fun in her 18th century get-up. As an audience member, it is impossible not to share in her glee.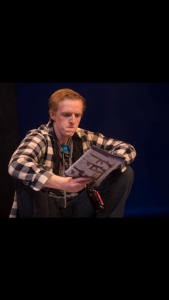 Props also must go to Pearl Fuller and Chioma Anyanwu. These women get the biggest reaction from the audience for their respective portrayals of St. Paul and St. Joan of Arc. They light up their scenes with remarkable stage presence. I could have watched an entire two acts of these two women bickering about their jobs as heavenly paper pushers. Their energy comes as a welcome relief from the heavy-hitting emotionality of the second act.
Because this show explores national issues on such a personal level, presenting it in a more intimate setting or on a smaller stage would have increased the overall impact. There are times when the starkness of a small human form on a big empty stage compliments the scene. There are also times when the characters feel lost, inhabiting a vast and mostly empty world onstage. These moments occasionally undermine the value we place on the characters as individuals and seem to clash with the idea of the world as an active, interconnected place.
While O Beautiful addresses a wide variety of issues, it doesn't attempt to comment on each one in particular. It isn't an argument for or against a certain political position. Rather, the play forces us to confront the hostile political climate we've created for ourselves.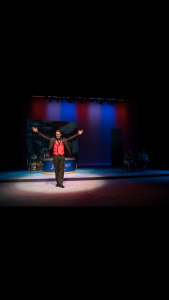 Theresa Robeck wrote this play in 2011, but it could have easily been inspired by the events of the current election. Once we reach the play's conclusion, it seems she actually predicted the unraveling of respectful political discourse we've witnessed in 2016.
There is a moment in the play, right before the beginning of the second act, when Donald Trump's face is projected onstage, calling for a "complete and total shutdowns of Muslims entering this country." I have seen many people blame Trump for the hostility that permeates current politics. O Beautiful disproves this notion by showing us that figures like Trump are products—not sources—of extreme polarization.
sdanley@unews.com