CSU Bakersfield is a .500 team and won 8 games in the Western Athletic Conference. The Roos have two wins in the WAC and shouldn't have been able to hang. But they did.
In the fourth quarter the Roos pushed their lead to 7 with 5 minutes to play. The Roadrunners battled back to get a two-point lead with a minute remaining. Kiana Law scored in the paint to tie it with 12 seconds left.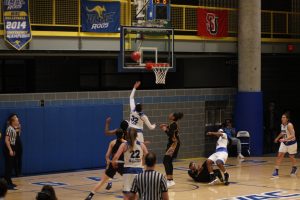 CSU Bakersfield with a last second shot, won the game 65-63. The Roos led for 18 minutes prior to that – the Roadrunners led 17. Neither team could manage a double-digit lead in this competitive game.
UMKC caused 17 turnovers, 9 being steals, and many of those came from a full-court press that the Roadrunners had trouble breaking.
"We kinda wanted to wrap it up a little bit – give it a little extra juice," said India Johnson.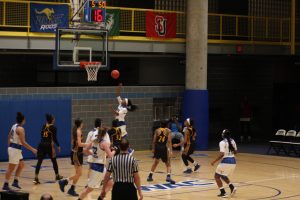 Johnson and Samantha Waldron both had 15 points.
"It was a combination of our teammates finding us and just playing with confidence," said Johnson. "My teammates kept telling me to attack. Sam – to be aggressive – look for a shot."
The Roos had 5 turnovers at halftime and ended the game with 14.
Law and Lyndsay Leikem were a presence down low. Law did it by attacking the basket and making free-throws. She had 11 points and 5 steals.
Leikem grabbed rebounds, and put them back up for easy points. She had 8 points and 5 boards.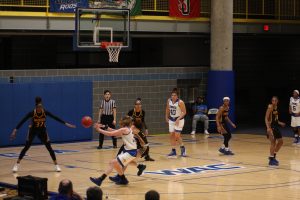 Ceidra Coleman had 6 of the Roos 14 assists and contributed to UMKC's 37 bench points.
Coleman scored her first bucket with one minute to spare in the first half, which also gave the Roos their first lead of the game.
Leikem, Coleman, Kelsey Barrett, and Justice Collins are the four seniors to be honored Saturday at 2 p.m. for their last home game.
"We love our seniors – they are great leaders for us," said Johnson. "We're looking forward to coming in on Saturday and getting a win for them."
UMKC will play Grand Canyon University at Swinney on Saturday.