Mental illnesses are far more common than most people seem to realize, and despite prevalence in our society, they still carry a stigma.
The National Alliance for Mental Illness (NAMI) hosted a panel discussion Tuesday with local health professionals to discuss mental health and the goal of reducing this shame.
"Stigma" is when people view others in a negative way because of their mental health condition, often resulting in judgment. Going through life with a mental health issue can be tough enough, so stigmas only help supplement the problem of getting the victims to reach out for the support and resources they need.
According to Caroline Gibbs, a licensed clinical professional counselor, "Stigmas are like prejudices; you can't live in this country and not absorb prejudices against others. You have to physically be with the people you have prejudice against to get over it."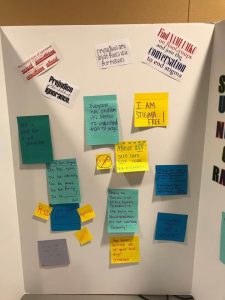 Gibbs talked about coming to grips with her own prejudices and stigmas early in her life. She later began immersing herself with individuals completely different from herself to overcome these preconceptions. Gibbs is now the founder and director at the Transgender Institute, and has been working with the transgender community for the past 14 years.
Guest Dr. Judge LaClaire discussed intersectionality, a concept that describes the multiple levels of discrimination individuals may face when an individuals' identity overlaps with a number of minority classes—such as race, gender, age, ethnicity, sexuality and other characteristics.
"Labels that we put on anyone become barriers of thinking about who they really are," LaClaire stated.
The number one presenting concern among students who have visited the UMKC Counseling Services is anxiety, followed by depression, according to Dr. Arnold Abels, Director of UMKC Counseling Services. His department has served over 900 UMKC students and faculty members and is working to aid an even greater number. All students get up to eight free counseling sessions, while group sessions are free of charge no matter how many clients attend.
UMKC Counseling Services is located on 4825 Troost Avenue, Suit 206, and is open Mon-Fri 8:00 A.M to 5:00 P.M.
jshyt7@mail.umkc.edu