UMKC attracts many students from St. Louis. In order to get back home for the weekend or for holidays, the drive time is a little under four hours. For those who choose to fly, it takes about an hour plus the cost of airline fees. No matter the form of transportation, getting to St. Louis from Kansas City can be a bit of a hassle.
The Missouri Department of Transportation (MoDOT) understands this and wants to do somethings about it.
With the help of the L.A.-based company Hyperloop One, students would be able to get to St. Louis faster than the time it would take to watch half an episode of Scandal. A whopping 23 minutes to travel the 240-mile route.
"It's a game changer," said MoDOT Assistant District Engineer Tom Blair. "Basically, we're connecting our two largest cities in our state in what most of us spend in a commute to work every day. Now a commute across our state connects us in so many different ways."
Hyperloop One is a private company with a global challenge. The company's current goal is to "move people and things at airline speeds for the price of a bus ticket." Kansas City is one of 11 semifinalists in the "Hyperloop Global Challenge." Cities all over the world have voiced their interest in joining the challenge.
The winning city will become among the first to host a hyperloop network—an electromagnetically-powered public transportation system capable of rapid transit.
Along with the Kansas City-St. Louis route are routes from Los Angeles to San Diego, Miami to Orlando, and even the 640-mile route length of the Texas Triangle (Houston-Dallas-San Antonio).
An international jury of leading experts will advise the decision-making process. These individuals are specialist in transportation, technology, economics, and innovation. According to Hyperloop, the jury is looking for sites that "most powerfully make the case for how Hyperloop would not only transform passenger and cargo transport in their locations, but also how that Hyperloop transformation will drive economic growth, generate opportunities for development, and create radically new opportunities for people to live anywhere, work anywhere, and be anywhere."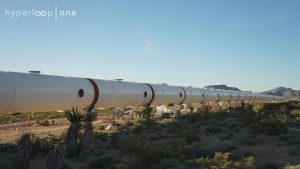 MoDOT believes the I-70 corridor to be the most ideal location for the Hyperloop.
"It's the original interstate and it's the oldest interstate in the country," Blair said. "It is centrally located and it needs to be rebuilt for many different reasons, the least of which is the condition of this interstate corridor. With all that being said, do we really just want to rebuild it to old design standards or do we want to actually create a corridor, a transportation corridor, that meets expectations of the 21st century?"
Hyperloop finalists are set to be announced in June. According to Blair, more questions will be answered once it is known whether or not the Kansas City-St. Louis route made the cut.
Hyperloop One's motor was tested in May of 2016. They are hoping to test the full system sometime this year and begin moving passengers by 2021.
cief47@mail.umkc.edu