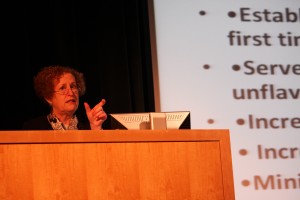 High school lunch may conjure memories of soggy, mass-produced fries and overcooked hamburgers.
For Dr. Susan Levine, who lectured "School Lunch Politics: From Truman to Reagan" on March 19 at the Plaza Library, school lunch represents a history of politics and conflict. Her presentation continued UMKC's Truman Legacy Series through the College of Arts and Sciences' Harry S. Truman Center for Governmental Affairs.
Levine, a history professor and Director of the Institute for the Humanities at University of Illinois at Chicago, lectured on her recent book "School Lunch Politics: The Surprising History of America's Favorite Welfare Program."
She recognized popular chefs attempting to reform school lunch, such as Jamie Oliver. His reality TV show promotes healthy but tasty food in schools.
"Their aim is to rescue children from greasy food and teach students to prefer zucchini over French fries," Levine said.
Why French fries over zucchini? Chefs must use U.S. Department of Agriculture's surplus commodities for mass-produced lunches, which limits healthy options. The USDA mandates federal nutrition guidelines, and meal subsidies only allow a maximum average of $2.40 per each free lunch.
"The task is daunting," Levine said. "Private chefs alone cannot save the public lunch program."
These failed attempts show the system's need for reform, Levine argued. More than 32 million children eat federally subsidized lunch each day, and almost 60 percent of those students receive free meals. Many low-income students rely on school lunch to combat malnutrition.
With demands for nutritious lunches and free-lunch eligibility changes affecting impoverished children, school lunch programs have historically faced both government support and scrutiny.
The first legislation mandating cheap or free lunch for eligible students was The National School Lunch Program (NSLP), signed in 1946 by President Harry S. Truman. Levine explained how the NSLP only reached a small percentage of children until the 1970s, serving few free lunches.
However, this federal law wasn't the catalyst for provided lunch.
In the '20s and '30s, nutrition scientists advocated rational eating habits to increase health and living standards.
"Food reform speaks to ideas about the causes and cures for poverty and inequality," Levine said.
Many women sought employment in the field of nutrition science. Those calling for food reform first envisioned school-provided lunches so that impoverished children could eat. These lunches were first served as a temporary relief measure as opposed to permanent welfare. This influenced the creation of the school lunch institution; in combination with USDA food surpluses.
One overlying question emerged in the 1930s, "Should nutrition education and food programs target people who did not have enough to eat, or should they target the nutritionally needy?"
Levine explained how school lunches slowly transformed into a government conflict. Nutrition science began outlining qualifications for healthy meals, so school lunch was urged to adhere to the standards.
By the early 20th century, reformers sought state-sponsored welfare systems pertaining to school lunches. Levine explained the influence of food rationing and free meal programs emerging after World War II.
With progress from USDA's surpluses and government attention, school lunches continued. During Richard Nixon's presidency, 8 million free meals were factored into the federal budget and extended to needy children. Focus shifted from the nutritionally needy to the financially needy.
Under Nixon's administration, the price of lunch for paying children increased, but quality of meals declined. Fast food quickly integrated not only into American society, but into the lunch room, making revenue through candy bars and soda.
President Ronald Reagan, however, pushed for cuts to school lunch programs. three million fewer children were eligible for free meals. The government went so far as to declare ketchup as a vegetable, insisting it fulfilled the nutrition standards just to save nearly $1 million.
Recently, counting calories has trended in popularity with public lunches as opposed to simply providing the cheapest option. Young children are served what meets nutrition standards rather than what tastes good.
The USDA's school lunch nutrition standards are far more rigorous than the initial criteria. Levine said the standards are almost impossible to meet while mass producing hundreds of lunches that appeal to children. Levine's lecture was made possible through partnership between UMKC's Truman Center , the Truman Presidential Library and Museum, the Bernardin-Haskell Lectures Fund and the Arts & Sciences Continuing Education Program.
mhartigan@unews.com