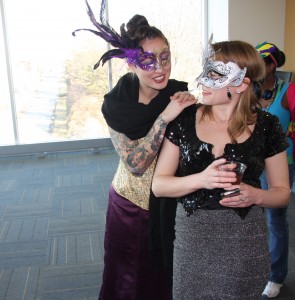 Last Thursday afternoon, a room on the fourth floor of the student union held an international celebration.
"Mardi Gras" is what Americans are familiar with, but it is an event celebrated in many other countries known as "Carnival." The room was filled with Brazilian music, glamourous costumes, glittery masks, golden coins and colorful beads.
Mardi Gras is French for Fat Tuesday. In Catholicism, Fat Tuesday is known as the last day of feasting before Lent begins on Ash Wednesday. The idea of costumes came about because before beginning the religious season, you have a day to cover up and celebrate without revealing your identity.
"In Switzerland they have unique masks symbolic for their own town." said Treasurer of Le Cercle Français, Lara Schanzer, who studied abroad in Annecy, France two years ago. Annecy is 30 minutes west of Geneva, Switzerland.
She discussed her experience of how Carnival is celebrated in Central Europe. "In France, it was about who could make the most elaborate Venetian style costumes."
"I feel like Mardi Gras is a bigger deal in America, all the necklaces and days of partying is totally an American thing." said French exchange student Heddy Aouad. In France, it is more simple and traditional. "Kids will dress up one afternoon in school. There will be an annual parade in each French city, there will be a geographical theme and people will dress accordingly and the parade is rehersed and choreographed," Aouad said.
The French club sold carnations earlier that week to be able to fund the Carnival celebration. "We made the maximum amount of money we could of made from the flower sale," Schanzer said. The funds helped get a band to play festive music for the event because carnival is not only celebrated in France, it is as well in Brazil.
A Brazilian band, Mistura Fina played traditional music such as "The Girl from Ipanema."
"Ipanema is a beach in Rio," said Shay Estes, the singer of Mistura Fina, who also sings in other local jazz bands.
Along with Europe and Brazil, Canada is also on the list for the partaking in the carnival celebrations. "In Canada they have a winter carnival in the first two weeks of February," said President Angela Fitle. "We wanted to have a campus wide event because this is celebrated by the whole world and UMKC is so diverse and it brings people together. Hopefully we can get more funding so this event can be a UMKC tradition."
The French club does an array of activities throughout the year, such as a tour of the Kansas City Ballet and French guided tours of the Nelson Atkins Art museum. For more information, come to a French club meeting held 10 a.m. every Tuesday in the Scofield Hall language lab.
jpoppel@unews.com