The Planetarium gave audience members a spectacular laser show to the King of Pop's greatest hits.
The new effects displayed remarkable lights to create animation that correlated with the iconic music of Michael Jackson.
"I've been running the laser show for a year now," said event operator Michael M. "What I like about this year is the new effects that attracted a wider audience."
The 40-minute show attracted families, teens and even couples wanting to do something different for date night.
The show started with "Don't Start Til You Get Enough", ended with "Bad" and played favorite Michael Jackson jams in between.
"I'm such a fan of Michael," said Sarah, an audience member. "I wanted to dance but due to the rules I could only dance in my seat."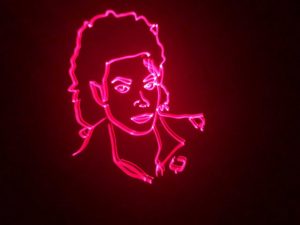 Not everyone was a fan of the constant flashing of lights and the abrasive strobes.
"I expected more, but hey, it was something different," said one event goer named Daniel.
Daniel, along with a couple audience members left the performance early due to lack of interest and misconception of the event.
Even though the audio boomed through speakers that created an atmosphere like a live concert, the lasers display was filled with repetition that failed some people's expectations.
However, that didn't stop others from singing along and remembering the impact Jackson's music had on the world.
If you missed the weekend of lights, you're in luck. The Planetarium will continue the popular laser show throughout the holiday season with other music by Queen, Daft Punk, Seasonal music and more.
jmcq58@mail.umkc.edu