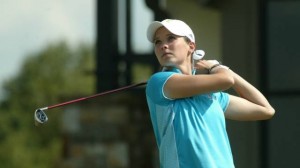 The women's golf team took seventh place at the 2012 Islander Classic with a team score of 943 (318, 311, 314) on Feb. 27-28 in Corpus Christi, Tex.
Junior Taylor Fisher led the Roos, totaling 232 (78-75-79) to tie for 19th place. Freshmen Susan Kirschenman (78-79-78) and Rachel Mulkey (83-74-78) tied for 29th, each with a score of 235.
Sophomore Emily Isaacson took 39th place with a three-round 241 (79-83-79), while senior Madison Maddox shot 258 (86-89-83), tying for 64th.
The University of Texas-San Antonio took team honors, finishing40 shots clear of 2nd-place Lamar.
The Lady Roos will be back in action when they travel to the Jackrabbit Invitational on March 12-13 in Primm, Nev.
ldavis@unews.com