"I used to think I was the strangest person in the world, but then I thought there are so many people in the world, there must be someone just like me who feels bizarre and flawed…Well, I hope that if you are out there and read this and know that, yes, it's true I'm here, and I'm just as strange as you."
The preceding words, written by Frida Kahlo, are spoken as the powerful beginning and end to the KC Rep's new production of "Frida… A Self Portrait."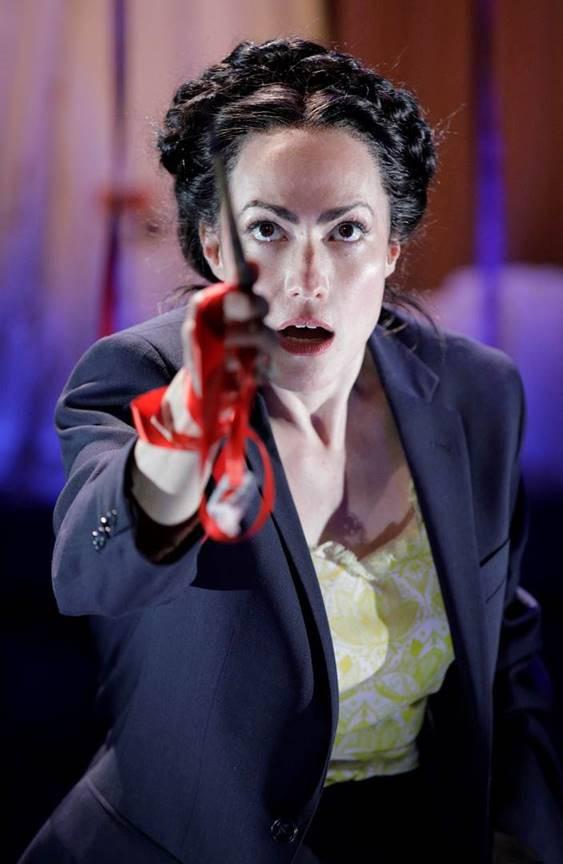 The play, written and performed by Vanessa Severo in a one-woman show, is a theatrical portrait of Frida Kahlo's adult life. What begins as an interview with the artist quickly transforms into both a biographical journey and an ode to what Kahlo has meant to Severo's own life.
The Mexican painter is well known today for her folk-style paintings, surrealist self-portraits and traditional Chicana image. Yet, as viewers see in the production, she was a somewhat unknown painter during her lifetime, more often recognized at the time as the wife of popular artist Diego Rivera.
The play touches upon several aspects of the artist's life story. This includes her complicated partnership with Rivera, chronic body pains, morphine use and unapologetic method of utilizing painting as a means to explore identity, class, heritage and the complexities of womanhood.
The production also shows Kahlo's early life in which she survived a painful bout of polio as a child and a horrific bus crash at 19 years old.
The set design consists solely of different costumes hanging from a clothesline, including Frida's famous traditional dresses. At one point, Severo slips into a large suit hanging on the line to signify that she has become Diego Rivera. Later she wraps herself in a hanging blanket and pillow to symbolize that she is lying in bed. She was often bedridden to cope with her extensive injuries from the bus crash.
Overall, Severo's performance as Frida is astounding. As Kahlo, she is emotional, raw, vulnerable and strong at the same time. The actress uses body language, hairstyles, clothing and accents to transform herself. In front of the audience's eyes she morphs from Frida, to different characters, to herself and back again.
The multimedia aspects of theater are also front and center in this production as the actor relies heavily on costume design, set design, sound effects, music and lighting to indicate when a new character is speaking, a scene has changed or the mood has shifted.
Severo periodically directs the play back to her own personal monologues as she talks about her experience traveling to Mexico City and visiting Kahlo's house, describing what she has learned from the visit and has gained from studying Kahlo's life.
Kahlo is famous for her willingness to be honest and vulnerable in her paintings, and Severo perfectly masters this in her own right through her personal monologues, depictions of Kahlo and emotional performance.
"Frida… A Self Portrait" really has to be seen to be truly felt and understood. Audience members can leave the theater feeling some kind of connection to Kahlo, and even a little assurance that they are not alone. Rather, they are "just as strange as her."
"Frida… A Self Portrait" is showing at the KC Rep's Copaken Stage until May 19.

hnp7gh@mail.umkc.edu