Kansas City is known for many things, from fountains to barbecue to the World War I Museum. The artistic atmosphere alone brings a many people into the city. While the very thought of baseball is forcing KC citizens into an uninviting mood, music may just be the one thing they will always have to ease their pain.
This point was made very clear at UMKC Jazz Night this past Thursday. Presented by the Conservatory Artist Series, the event consisted of a variety of ensembles representing the totality of jazz studies at the conservatory. Students and community members gathered into the Folly Theatre to watch as Dan Thomas and Bobby Watson directed a show that would lead to a standing ovation. Thomas and Watson both even directed a few of their own pieces, dancing and marching as the audience continuously expressed their admiration.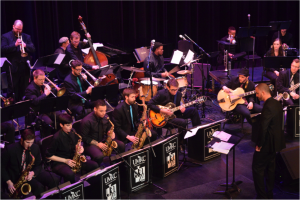 "We encourage all to find their unique creative voice in the music," said Thomas. "The Folly show has proven to be a spring semester highlight during Jazz Appreciation Month for audience and performer alike."
There was no way to tell which pieces the audience favored. The Conservatory's bands, the World Percussion Ensemble, Jazz Bass Ensemble, and Jazz Guitar Ensemble all moved the audience in different ways toward feelings of joy and appreciation. Each soloist was effortlessly able to perform in a way that had great impact on the audience. This was all possibly because they've learned from some of the best. Bobby Watson has had the music career many can only dream of. Coming back to Kansas City to continue teaching a little over 15 years ago, he praised Thomas for his encouragement and help.
"All of us need help," he said. "That's what this jazz thing is about, and it's wonderful to see it grow. He has magnificent skills in recruitment and walking hesitant students off the ledge. Where most people would give up, Dan says 'no no, let me talk to you.'"
While the performances were great, they were just what the audience should have expected, being in Kansas City. Everyone walking out of the theatre that night was thinking the same thing: the show was not Kansas City leaving its mark, but confirming its legacy. Though New Orleans may be the birthplace of jazz, Kansas City definitely helped raise it.