Literacy KC and The Writers Place invited writers, students, teachers, and community members of all ages to join them in an event emphasizing the importance of reading and writing last Thursday.
The event included many guest speakers including UMKC's very own Whitney Terrell, published writer Alan Proctor, poet H.C. Palmer, and many Literacy KC adult students.
The guest speakers who seemed to have been the highlight of the evening were The Writers Place students Deonte and Denae Newborn. The high school freshmen spoke of how reading and writing have essentially "saved" them.
"I used to be a very bad kid who got in trouble all the time," said Deonte. "Writing helped me express myself."
After speaking of their writing experiences, the two read a few poems and stories they had worked on during their time at The Writer's Place.
The room filled with laughter and smiles from the audience as Denae read a story from her childhood.
"I grew up in a four-story house with a lot of people," she said. "A place where if you wanted breakfast in bed, you slept in the kitchen."
The Newborns both went on to speak of how big of an impact their grandmother had on them, putting a big smile across her face.
Following the Newborns were Literacy KC adult students who spoke of how they have come to know bravery and confidence through reading and writing.
One student spoke of how hard it was as an adult not being able to read food labels or billboard signs. "I would have never been able to speak in front of an audience if it were not for Literacy KC's help," she said.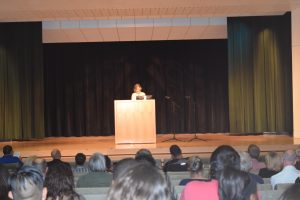 The event called much attention to the work that Literacy KC and The Writers Place are doing in order to make Kansas City a more literate community.
The Writers Place board member Maril Crabtree spoke of how not everyone grows up with the same opportunities.
"But everyone should experience the joy of writing and hearing great writing," said Crabtree.
Literacy KC and The Writers Place have spent years working on increasing Kansas City's literacy rate. They support and inspire people of all ages to do the very best they can in order to succeed.
Alan Proctor spoke of this while remembering a story he was told as a child.
"There was a snowman who could fly. But no one else knew he could fly and so he melted," said Proctor. "So read and then read some more because the page is your canvas. Let your imagination go, fly, and be seen."
Cemuakhagbon@unews.com