The goal of medical professionals should be to interrupt and prevent domestic violence, said Megan McCall. McCall serves the Bridge program Coordinator for Rose Brooks Center, a local domestic violence outreach facility.
Last Wednesday, McCall spoke to future health care workers at UMKC about the programs at the Rose Brooks Center.
"The mission of Rose Brooks Center is to break the cycle of domestic violence," McCall said. "We know that domestic violence is not a one-time incident. It is an ongoing pattern of power and control
One in three women will experience domestic violence in their lifetime and 15 percent of victims are men, according to McCall. Rose Brooks Center provides outreach for women and men in a healthcare setting and is able to house over 80 people in their facility on any given night.
Rose Brooks provides 24/7 outreach assistance through their medical advocacy programs like the Bridge. Trained Bridge advocates provide therapy, housing, legal services and a safety plan to domestic violence survivors. McCall said that the impact primary physicians and health workers can have in preventing domestic violence is huge.
Although the organization responded to over 1,200 domestic violence calls in 2015, only nine of those cases were referred to them through primary physicians. McCall said that the new generation of physicians needs to incorporate awareness of domestic violence in routine medical assessments.
"Up to 81 percent of survivors surveyed said they want someone to ask them about domestic violence," said McCall. "They want you as healthcare providers to do that. This might be the one place they get to be one on one with someone alone."
Brianna Shores, a junior majoring in biology with an emphasis in biomedical sciences, started volunteering with the Rose Brooks Bridge program during her freshman year.
"It's incredibly important for medical professionals to understand the signs and symptoms of domestic violence because it is prevalent," Shores said.
Shores volunteered to be one of the trained Bridge advocates McCall spoke about. While volunteering, Shores said she takes as many hours as she can to be on call for domestic violence survivors at hospitals.
"Usually I go through an intake," Shores said. "We have a couple forms we need to fill out for stored information at Rose Brooks. Whenever I first come into the rooms I introduce myself and remind them that everything said in our conversation is confidential. From there I try to open up the conversation."
Shores said that when she sits down with domestic violence survivors, they are often hesitant to talk. Once she shows them power and control wheel, survivors tend to open up.
The power and the control wheel is what Rose Brooks Center uses to help guide survivors along and educate them on the tactics abusers use to control their victims.
The outer ring of the wheel is for physical and sexual violence. McCall said that it doesn't stop there. The inner ring is what the abuser uses to manipulate and control their victim.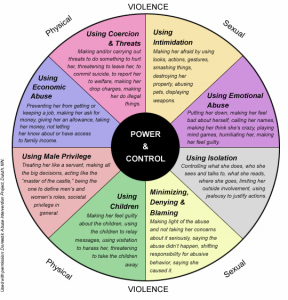 "We would start talking about specific aspects of domestic violence," Shores said. "In those instances people would start pointing to the wheel and telling me more and more about their experience."
McCall said that sometimes people think domestic violence is a result of drug addiction, alcoholism or mental illness. In reality, it is about having power and controlling the relationship.
If physicians were aware of the tactics used by abusers and were able to access and document patients, McCall believes some of the victims she has worked with who lost their lives would still be here today.
The inner parts of the wheel consist of intimidation, emotional abuse, isolation and manipulation, using children, reproductive cohesion, economic abuse and threats.
Shores said that after showing survivors the wheel and listening — as well as documenting — their stories, she connects them with resources to provide shelter and any other protection that they need to feel safe.
"If I were experiencing any type of domestic violence, I would want my physician or nurse, when I walked into an ER, to be quick on their feet and ask the necessary questions [and] make sure I received the care I need," said Shores. "I would want them to be competent and empathic and compassionate and fully help victims of domestic abuse."
     Rose Brooks Center's services are free and fully confidential. Volunteer opportunities are open to the public. If you are interested in volunteering for Rose Brooks Center, see their website https://rosebrooks.org/how-to-help/volunteer. If you or anyone you know is experiencing domestic violence call Rose Brooks Center 24 hour crisis call line at 816-861-6100.
zlinhares@unews.com