A group of international students split into teams and roamed campus on Wednesday afternoon to see who could be the first to find someone with a Kansas City Royals shirt.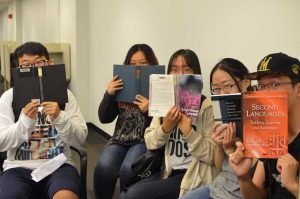 No, they weren't trying to find out the best place to snag some sports gear. They were participating in the Applied Languages Institute's (ALI) Conversation and Games event, which featured a scavenger hunt.
The group of students and ALI staff met at the Old University Playhouse, discussed the rules of the game and went off scouring campus to find the most objects. Their list included books about language, exercise equipment and someone with red hair.
"I haven't done this kind of game before, just walking around campus," said sophomore Chuqi Hua with a laugh. "It's fun, really fun."
The students who took part in the hunt have only been in the U.S. for a few weeks, and activities like these are an opportunity for them to get to know their surroundings and new people.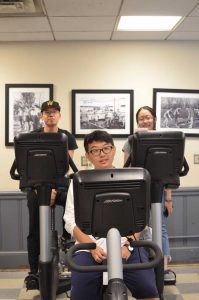 "Each month we have a series of cultural enrichment activities where students can integrate into campus and the city," said Jasmine Canady, a junior who works at ALI.
Linwu Shi, a sophomore in English, said he and the other students found out about the event from their classes.
The scavenger hunt was planned by Chelsea Butts, the international student liaison for ALI. She said this was the first time they've done this kind of event for the international students, but it seemed to be well-received.
In fact, Jiaxuan Li, a sophomore in accounting, was very happy with her experience at UMKC so far.
"I think UMKC is very good," Li said. "It's very, very great."
For more information about the Applied Languages Institute and their events, visit www.umkc.edu/ali or visit their Facebook @umkcali.
mbwy9f@mail.umkc.edu