The Communication Studies Department of UMKC received a $50,000 grant from the Hearst Foundation this summer. This grant will be used to update and expand the existing media production facilities. The department hopes that the new equipment will help better prepare students for future job markets.
"This is a major gift for the College of Arts and Sciences. This is the largest and most substantial gift to date in our efforts to help update the technology in our radio and TV studios", said Jason Elliott, Director of Development for UMKC College of Arts and Sciences.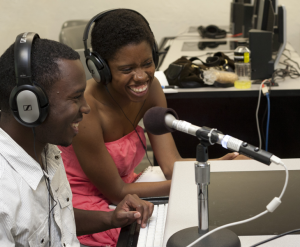 The executive director of the Hearst Foundation is a former Kansas City television executive, and his familiarity with the UMKC film department was a factor in securing the grant. According to Elliott, funders are also attracted to projects where they can make a big impact.
The radio lab located in Haag Hall will be moved to Haag 104, and the space will be renovated into a studio used to produce newscasts and podcasts. Those within the department plan to equip the studio with multiple cameras, a teleprompter and a news desk. The media lab, which has not seen an update since it was constructed in 1998, will be receiving an update to its equipment as well.
"It's no surprise that you can get more technology for your money than you use to get. Ten years ago somebody asked me to do a similar bid to redo [the Media Lab] and I estimated $300-400,000 to do it. Now, I know we won't be able to do all that we want to with a $50,000 grant, but we're going to come real close."
This fall semester students can expect to be utilizing the new studio and updated lab in the production courses currently being offered. As of now, no plans for new classes are being considered. The film department is still struggling in many ways to staff instructors since the untimely death of Dr. Tom Poe last semester.
jcl9b7@mail.umkc.edu