Screams of "Not my president!" and "We don't need Trump!" rang out blocks away from City Hall in downtown Kansas City on Friday's Inauguration Day.
Hundreds of protesters, ranging from all ages, genders, ethnicities and backgrounds, gathered at Liberty Memorial, Friday afternoon and marched to City Hall in protest of President Donald Trump.
Mary K. Prea, a 55-year-old retired woman, came to the protest motivated by her late uncle, Primitivo Garcia, the first Hispanic to have a school named after him in the Kansas City area.
Prea's uncle died a hero when he took a bullet for a pregnant teacher who was attacked by robbers outside Westport High School.
"My dad and his older brothers were hard working people, painters, and anything else they could find to save money and bring the whole family over," said Prea. "I'm doing this because my family came here to have freedom and a better life."
Prea also opposed Trump's presidency for fear of the violation of women's and LGBT rights.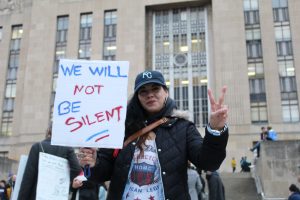 Karen Baddeley, a 36-year-old law student was also among the crowd of protesters on Friday.
"I came to make the statement that everything Trump stands for is unacceptable and to me, his is an illegitimate presidency," said Baddeley. "I also want people who are walking by feeling disenfranchised to know that there are people who care about them."
While Baddeley had a lot of concerns over the upcoming Trump Administration, her biggest concern revolved around healthcare and the Affordable Care Act. She clutched a sign that read "Not Again" with a drawing of a clothes hanger.
"We wouldn't have a lot of the rights we have, had people not protested. You can't do nothing if you don't accept the alternative, and I don't accept it," said Baddeley. "I couldn't just sit at home and watch the coverage of the inauguration, I had to do something."
First time protester, Phil Kelley, a computer science student at Longview Community College, boasted a sign with an acronym for Trump, "Totalitarian, Racist, Unqualified, Misogynist, Pedophile."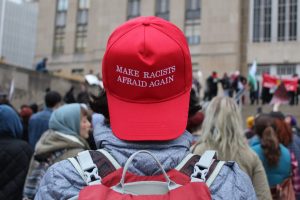 "Trump isn't like any other corrupt politician," said Kelley. "This is a guy who in his cabinet has senators with ties to the KKK and the head of the far-right, racist website breitbart.com. He is bolstering racist incidents and hate crimes."
While many people have criticized inauguration protests, Kelley felt that to not criticize the president, would be unpatriotic.
"A lot of people say we shouldn't protest and that we need to respect Trump's legitimacy, but you should not feel like you shouldn't protest a corrupt leader or resist his policies," said Kelley.
The protest ended peacefully early Friday evening after a slate of speeches from a variety of Kansas City social justice organizations.
epark@unews.com