Daylight savings ended. Now, the days are shorter. Don't waste precious time waiting for dinner. Instead, let these slow cooker meals wait for you on these frenzied, fall nights.
Cheesy Cauliflower Casserole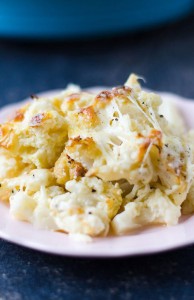 Ingredients:
• 5 cups small cauliflower florets
• 1/2 lemon
• 1 and 1/4 cup milk
• 1 tablespoon olive oil
• 1 egg
• 2 tbsp. flour
• 1 and 1/2 tsp. salt
• 2 tsp. ground black pepper
• 1 cup parmesan
Directions:
1. Preheat oven to 390 degrees.
2. Steam the cauliflower florets in a steam basket for 10 minutes. If you don't have a steam basket, fill a large pot with water, toss in the florets and bring to a boil. Let it simmer for approx. 10 minutes or until tender. Place lemon in the steam basket or in the pot with the florets. Drain and transfer cauliflower into very cold water. Drain and put aside.
3. Whisk milk, olive oil and egg. Add in flour, salt and black pepper and whisk until smooth. Fold in 3/4 cup of parmesan. Toss in the cauliflower and coat well with the sauce. Transfer the mix into a casserole dish and bake for 40 minutes. Remove the casserole from the oven, sprinkle the remaining parmesan over it and bake for an additional five minutes or until cheese melts and is golden.
Healthy Crockpot Sesame Chicken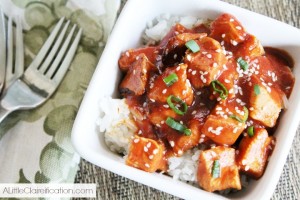 Ingredients:
• 3 boneless, skinless chicken breasts, diced into one inch cubes
• 1/2 cup honey
• 1/2 cup soy sauce
• 1 small can tomato paste
• 1 tsp. sesame oil (substitute olive oil if needed)
• 2 tbsp. rice vinegar
• 1 tsp. minced or ground ginger
• 2 cloves garlic, minced
• 1 tsp. of chili paste (alternately hot sauce or 1/4 teaspoon red pepper flakes)
• 2 tsp. cornstarch dissolved in 1/4 cup hot water
• Sesame seeds
• 1-2 scallions (green onions), finely chopped
Directions:
1. Once your chicken is cubed, lightly season with salt & pepper then set aside.
2. Turn the crock pot on high and add in all of the ingredients from the honey to the chili paste.
3. Once the sauce is heated through and combined, add the chicken and stir to combine.
4. Cook on low for 4 hours or on high for 2 hours, until the chicken is cooked through.
5. Using a slotted spoon, remove the chicken, cover and set aside.
6. In a small bowl, dissolve the cornstarch into 1/4 cup hot water.
7. Add to the crock pot and simmer on high for 20 minutes until the sauce thickens.
8. Turn off the heat and return the chicken to the sauce, stirring to coat.
9. Serve over basmati or jasmine rice.
10. Garnish with sesame seeds and scallions as desired.
Pizza in a Pot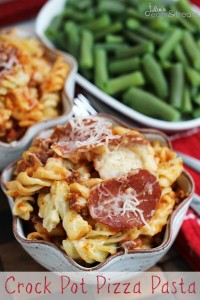 Ingredients
• 1 1/2 lbs. ground beef
• 1 medium onion, chopped
• 1 can (15 oz.) tomato sauce
• 1 jar (14 oz.) pizza sauce
• 2 tbsp. tomato paste
• 3 cups spiral pasta
• 1 package (3 1/2 oz. each) sliced pepperoni
• 2 cups shredded mozzarella cheese
Directions:
1. In a large skillet, cook the beef and onion over medium heat until meat is no longer pink. Drain. Stir in tomato sauce, pizza sauce and tomato paste.
2. Meanwhile, cook pasta according to package directions.
3. In a 5-qt slow cooker, layer 1/3 of the pasta, beef mixture, pepperoni and cheese. Repeat two more times ending with cheese. Cover and cook on low for 3-4 hours or until heated through.
Photo and recipe julieseatsandtreats.com
Slow Cooker Chicken Fajitas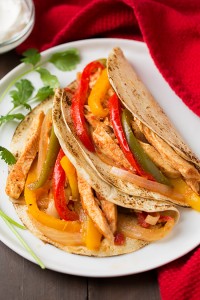 Ingredients:
• 2 lbs. boneless, skinless chicken breast halves
• 1 (14.5 oz) can petite diced tomatoes with green chilies
• 1 red, orange and green bell pepper, thinly sliced
• 1 large yellow onion, halved and sliced
• 4 cloves garlic, minced
• 2 1/2 tsp. chili powder
• 2 tsp. ground cumin
• 1 tsp. paprika
• 3/4 tsp. ground coriander
• 1 tsp. salt
• 3/4 tsp. pepper
• 2 tbsp. fresh lime juice
• 1 tbsp. honey
For serving:
• Flour tortillas (plus sour cream, cilantro, salsa, guacamole, shredded cheese as desired)
Directions:
1. Pour half of the canned tomatoes into the bottom of a slow cooker and spread into an even layer. Top with half of the peppers and half of the onions. Sprinkle in the garlic. Top with chicken breasts.
2. In a bowl, whisk together chili powder, cumin, paprika, coriander, salt and pepper. Evenly sprinkle half of the seasoning over the chicken breasts then flip them and sprinkle in the remainder. Top with remaining half of the tomatoes, then layer in remaining peppers and onions.
3. Cover and cook on high heat for 3 – 4 hours or low heat 6 – 8 hours, until chicken has cooked through and veggies are tender. Note: If you want to be able to cut chicken into strips, cook for the shorter time on high or low – chicken will shred when cooked to full time.
4. Remove chicken and cut or shred. Ladle out 1 cup of the broth from the slow cooker (mostly tomato liquid) and discard. In a small, bowl whisk together lime juice and honey and add to the slow cooker, along with the chicken. Season with additional salt to taste if desired. Gently toss. Serve in warmed tortillas with desired toppings.
Slow Cooker Caramel Apple Crumble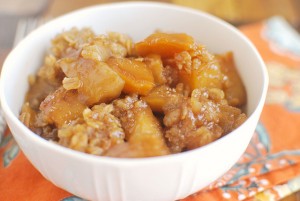 Ingredients:
For the apples –
• 1 cup brown sugar
• 1/2 cup granulated sugar
• 5 large apples, peeled and cut into chunks
• 1/4 tsp. salt
• 1 tsp. cinnamon
For the topping –
• 2/3 cup oats
• 2/3 cup loosely packed brown sugar
• 1/4 cup flour
• 1/2 tsp. cinnamon
• 3-4 tbsp. softened butter
• 1 tbsp. vanilla extract
Directions:
1. In a mixing bowl, combine brown sugar, granulated sugar, apples, salt and cinnamon. Spread onto bottom of slow cooker.
2. Mix crumble topping ingredients until together. Sprinkle over top of the apples. Cook on low for 4 hours or high for 2 hours.
3. Turn off heat and let sit, covered, for approx. one hour to let the caramel thicken.