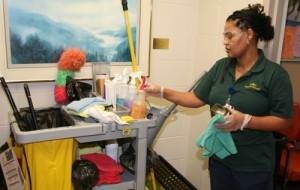 In 2007, UMKC decided to shelve the cleaner it had used for years in favor of eco-friendly cleaners. The new system, now required by Building Services, was coined "Green Clean," and is now used to clean 43 buildings on campus.
"The products do a great job of cleaning, shining and disinfecting," said Velda Robins, interim manager of Building Services, "You can't argue with that."
The American School & University Magazine (ASUM) recently acknowledged UMKC as one of 10 U.S. universities to receive the 2011 Green Cleaning Award.
Building Services has trained 275 employees through the Green Housekeeper Program Certification. The certificate has been made a requirement for eligible employees to advance in Building Service positions.
"Since the implementation of the green cleaning program, hundreds of toxic chemicals have been eliminated from use on campus and have been replaced with just three daily cleaners with environmentally friendly ingredients," ASUM said of UMKC.
Many of the chemicals used in these chemical-based cleaners are not required to be on the label in some states, according to Terri Bennett's Huffington Post article "Chemicals In Your Home: How Do They Get There?"
Some of the chemicals in the cleaners are also flammable. A 5-year Environmental Protection Agency (EPA) study found concentrations of 20 toxic compounds were as many as 200 times higher in the air inside homes and offices than outdoors.
Use of eco-friendly cleaning supplies is seen as a way to not only improve the air but also a way to potentially improve the health of students and staff.
The switch to green cleaning supplies has also been a financially green decision.
This switch has halved the amount spent on cleaners, a reduction from $300,000 in 2008 to $140,000 in 2011 for the green cleaners and Green Seal-certified hand soap.
There has also been a decrease in the number of serious employee injuries from slips and falls. There were 462 lost hours in 2007 and only 80 lost hours January through August 2011, that is a mere 17 percent of the previous amount.
Individual complaints about the sub-par quality of air and asthma and respiratory problems have also decreased.
In addition to the changed cleaning liquids, for the last two years, custodians also use microfiber towels and flat mops instead of disposable cleaning towels and string mops and buckets.
"[The microfiber towels] are not disposable and will stand up to repeated washings," Robins said. "Soon all the bathroom towel dispensers will be automatic. They need little maintenance and dispense towels one at a time. We have made ergonomic changes, too. Crews have lighter-weight equipment and tools that require less force to use."
One complaint about green cleaning supplies is the lack of fragrance.
"Like most of us, [those who complained about the lack of fragrance] connect a floral or pleasant chemical aroma with cleanliness," said Corey Key, former head of Building Services and Grounds. "My task is to convince them that if we don't smell anything, the unpleasant odors are gone and the products are doing the job."
nzoschke@unews.com