UMKC will lose about $10 million from its mid-year budget from the state of Missouri. Last Monday, recently elected Missouri Gov. Eric Greitens announced cuts of $83.8 million from the state budget for higher education for 2016.
UMKC administration is still uncertain about the effects of the cuts, as this was money Missouri schools had counted on in their budgets. UMKC will lose $5.8 million from its core operating budget, according to Karen Wilkerson, director of budget and planning at UMKC, with the remainder of Greitens' cuts affecting other extension and multi-campus programs.
"We really don't know how it will impact us just yet," said Wilkerson. "It's mid-year."
The cuts include $3.3 million from the UMKC Free Enterprise Center, $808,331 from the doctorate pharmacy program between UMKC and Missouri State and over $1.2 million from the cooperative dental program between UMKC and Missouri Southern State as The Kansas City Star reports. An additional $215,556 cut comes from UMKC's Center for Neighborhoods, an initiative between UMKC's Urban Planning department and various community-based organizations working to bring research, training, workshops and partnerships to improve Kansas City.
According to UMKC Director of Media Relations John Martellaro, Greitens' $10 million cuts come out of UMKC's total operating budget of $240 million for this year. Martellaro said university administration should have a firmer understanding about the impacts of Greitens' cuts sometime in the next week.
"Bottom line is we're still crunching numbers," said Martellaro. "It's a significant situation to deal with and we plan to be as transparent with the campus community as we can possibly be, but we just don't have anything firm yet."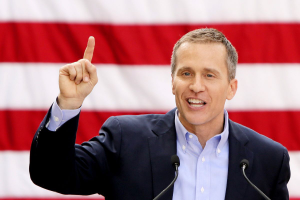 Following the announcement, initial concerns from UMKC students revolved around tuition increases and the pending downtown campus, but Martellaro said Greitens' cuts will not directly affect these just yet.
"It definitely won't impact tuition because what we're talking about here is in the appropriation for the fiscal year that we are in that ends in June," said Martellaro. "So the next budget, which the legislature would have to craft and vote on next session, begins July 1st. And that would be the one to impact future tuition costs."
The same goes for the downtown performing arts campus project, said Martellaro. UMKC's request for funding for the downtown campus is for the next fiscal year, and Greitens' cuts are only for the current budget.
Greitens' cuts for 2016 may foreshadow more cuts for 2017 as Missouri has had consistent budget troubles.
"We are of course disappointed by having to make these cuts," said Martellaro, "but at the same time, we also understand the financial realities that the Missouri legislature and the governor are facing."
etseng@unews.com