Learning from a textbook can be un-engaging, unproductive and often boring. Krista Gehring, associate professor at the University of Houston, innovated the way her students learn about criminology by incorporating her passion of comic books into the classroom.
She described how she developed the idea for CrimComics, her personal comic book series which teaches criminology theory to undergraduates and replaces a traditional textbook, at a March 15 lecture to UMKC students.
The lecture started with an overview of the history of comic books—how they started, how they became overrun with superheroes and how they developed to where they are today.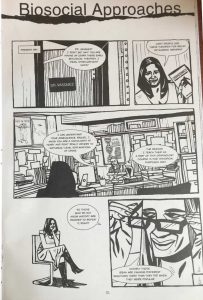 Gehring described the different eras of comic books, and how we are currently in the "Era of Imagination"- a time of great diversification as to the topics comic books cover, moving beyond superheroes and exploring all aspects of life. This perspective contributed to Gehring developing CrimComics.
Once the audience had background knowledge, Gehring described the journey she went through in creating CrimComics. While teaching criminology in 2007 at the University of Cincinnati, she noticed her students' disengagement.
This pushed her to call her fellow comic book lover and criminal justice specialist Michael Batista. She presented her idea for a comic book series that would teach criminology theory to Batista, who loved the idea. Soon, the dynamic duo began working on their first comic, with Batista as the artist and Gehrig as the writer.
Gehring's colleague, UMKC's own chair of the Criminal Justice and Criminology Department, Kristi Holsinger, recalled following CrimComics through its development.
"We get to see each other at conferences, so I've gotten to hear the story of her working on it," Holsinger said. "It'll be interesting to see how this takes off in the field of criminology."
The first issue of CrimComics reached bookstores' shelves and students' hands in 2016.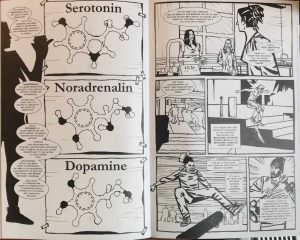 Reading a CrimComic is remarkably similar to reading an actual comic book. Gehring presents the theories she normally teaches with a textbook through a more engaging story, and images that push students to use higher level thinking to understand content.
These factors compose part of what Gehring calls the 'three e's' of comics, engagement, efficiency and effectiveness.
Teaching through comics, she explains, "increases student's engagement with the content, allows you to efficiently fit a lot of information into a relatively small space and allows students to recall the theories they learn much more effectively."
Using comics as a way of teaching undergraduate classes is such a new idea that it is difficult to say where it will go, but Gehring remains hopeful.
"I've been using these in my undergraduate classes, and the effect has been great. In fact, I've seen other criminology professors using these in their classes as well," Gehring recounted. "I've even had people from other specialties approach me saying, 'Hey, these CrimComics are great for criminology- do you think you could make some for psychology?'
"I have to tell them sure, get back to me in a couple years when I'm finished with CrimComics."