UMKC faculty braced themselves after Gov. Greitens' new round of cuts hit higher education the hardest last week.
Greitens' latest budget proposal slashed an additional $40 million from the University of Missouri System. The cuts apply to the next fiscal year, which start July 1. This proposed reduction is in addition to the mid-year $10 million withholding from UMKC's budget for the current year, which the governor announced a few weeks ago.
Greitens chopped a total of $159 million from higher education for next year.
At department meetings last week, UMKC faculty learned of the cuts and are waiting to hear more about how hiring, tenure track for professors and aid to students will be impacted. Faculty travel funds have been reduced, so fewer will be able to travel and present their work at conferences.
Greitens' cuts to this fiscal year and the upcoming fiscal year remind Dr. Shannon Jackson, associate professor of anthropology, of the 2008 and 2009 rounds. These tight budgets impacted faculty workloads, travel, money for office of research — even photocopies and office supplies. Since 2008, faculty members have had to provide their own pens, Jackson said.
"The next budget cut will be even more difficult as there has been a cumulative effect from 2008," Jackson said. "Resources have been reduced over time."
Faculty members also experienced increased pension contributions and health plan costs, reduced compensation for summer teaching, fewer teaching assistants and graduate fellowships, reductions in graduate programs and start-up funds as well as less funding for recruitment, enrichment and licenses for research tools and software.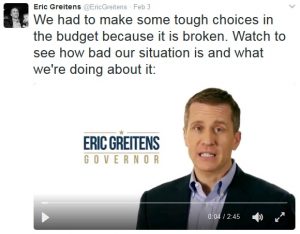 "We've been told to be frugal," said Dr. Michael McDonald, associate professor in interpersonal and public communication. "Nothing from administration has been put into writing yet, so nothing is certain."
"The message from above seems to be, 'we survived once, we'll survive it again,'" said Jackson. "But we never fully recovered."
According to McDonald, Jackson and several other faculty members, UMKC has had difficulty filling faculty positions in the years since 2008 and 2009. The number of tenured professors has dropped by 10 percent.
"The College of Arts and Sciences, to be fair, is trying to restore the number of tenure track assistant professors, but salaries are so low, we are having trouble attracting qualified faculty," said Jackson. "The Sociology Dept., for example, has just endured two failed searches for this reason."
Hiring difficulties increase the number of classes each professor teaches, said one professor, who wished to remain anonymous because he is not tenured. He said as UMKC administration pushes student enrollment, classes also increase in size, which can impact the quality of students' individual classroom experiences.
"One of the most immediate impacts [is] our students have not yet been able to get funding for the internship brunch," said Dr. Lyn Elliot, professor and undergraduate adviser in film and media arts. "That was turned down this year because of the budget cut."
The internship brunch, held by the Student Mercury Association, brings employers to UMKC and is a major career building opportunity for students to find internships and jobs.
Dr. Marc Garcelon, associate professor of sociology, said students and faculty should look at Greitens' recent series of cuts in the larger political context and mobilize.
"These cuts are an attempt to gut and destroy UMKC as an educational institution," said Garcelon. "The viciousness of this government and attack on education is part of a degenerate policy of the right-wing party."
UMKC's Director of Media Relations John Martellaro declined to comment as he was instructed to direct all media with questions about the governor's budget to the University of Missouri System in Columbia.
John Fougere, chief communications officer for the UM System, said it was too early to give any specifics as the UM System was still reviewing the budget.
"These cuts will make it challenging for the University of Missouri System to meet its critical statewide mission of educating our state's future workforce, performing lifesaving research and helping move Missouri's economy forward," UM System Interim President Michael Middleton said in an official statement.
"I join the Board of Curators in commending the governor for consolidating our core funding into a single appropriation line," Middleton said. "This allows the university to fulfill its statewide mission and better equips our leaders to effectively deal with fiscal challenges facing the UM System."
Greitens also plans to alter eligibility requirements so that 20,000 people with disabilities would no longer qualify for in-home and nursing home care, about a third of the current total who receive the aid. The newly elected governor also plans to slash 188 state government jobs.
Missouri's K-12 schools will receive about $3 million more than last year in Greitens' budget plan, but the total budget of $3.3 billion would still be $40 million less than the state law amount. Greitens also proposed cutting $36 million from school transportation.
etseng@unews.com