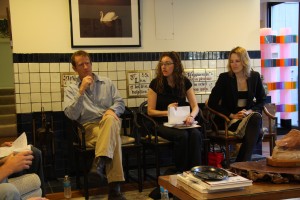 Faculty and directors of the graduate programs at UMKC held a panel Nov. 12 on how to help students get into graduate school. The focus was on the MA and MFA programs, but is applicable to any type of program.
The first segment of the event was a meet and greet with graduate students who are currently in the English program. The panel explained the importance of discussing the programs in which you plan to apply with other students as they will tend to be more honest than the directors of a program.
Then the event segued into a faculty panel, consisting of New Letters Distinguished Writer-in-Residence and Writers at Work Director Whitney Terrell, Assistant Professor and Creative Writing Director Dr. Hadara Bar-Nadav, and Associate Professor Dr. Laurie Ellinghausen.
During the panel, they addressed some of their experiences when they applied to grad school. A lot of the advice included questions they wished they had been told to ask before applying. After the panel finished, students were allowed to ask any questions they wished about the UMKC program specifically or general questions they had about applying to graduate programs.
The panel started with Dr. John Barton, assistant professor and Director of Graduate Studies. He handed out a list of graduate programs around the country. They were ranked highest to lowest, but he said, "The thing you don't want to do is fetishize the list."
Ellinghausen agreed, saying, "All these reflect is faculty research grants and general faculty visibility."
While there is obvious prestige in getting a graduate degree from an Ivy League college, having a MA or MFA degree from an Ivy League school can actually work against students if they are applying for jobs at smaller schools. The administration may fear the student is too high-powered and won't stay long at the smaller school.
One of the most important assets when applying to graduate school is good references. One way to make sure you get a good reference is to give any professors writing your references at least a month to put effort into it. Professors may be writing many different students' reference letters, so giving them time will allow them to think of specific things about you, which will strengthen the reference.
This is one reason why students are not advised to apply to more than 10-12 schools. "You don't want to knock yourself out and you don't want to knock your letter writers out," Bar-Nadav said.
Barton suggested students should, "look around at what faculty members are at each institution."
Barton advised students to not worry too much about the references, since they are not something students can really control. "The things you can work on is your statement of purpose and your writing sample," he said.
One of the most common problems with students statements of purpose is they are too general. What will set one apart is a very clear statement of purpose with specifics about your research interests. Saying things like, "I really like literature" or "I love to read" will not help one's chances of getting into graduate school.
"They are the iceberg lettuce of statements," Ellinghausen said.
Ellinghausen and Bar-Nadav agreed that telling stories in the statement of purpose is useful and helps to catch the eye of the readers. Terrell agreed with them to an extent, but argued against trying to be too clever for fear of turning off a reader.
Dr. Henri Rix Wood, a full-time lecturer for the English Department, said, "When in doubt, as my high school journalism teacher used to say, 'read the directions.'"
Of Ph.D. students, 60 percent do not finish their programs. The faculty panel explained this is because students don't scope out graduate schools before they apply. There are a lot of questions the faculty panel suggested one ask before applying to a school.
How often is the faculty being published? Creative writing students should have faculty who can advise them on the current publishing market.
How much of a peer group do you want? Some programs only let two or three students in every year, but others will have a large peer group.
Are there comprehensive exams or a thesis? Some people shudder at writing any more than what is necessary, while others do not test well; this might affect which university a student should attend.
How many classes do graduate student assistants have to teach? Sometimes they have to teach two every semester. Some students would not be able to keep up with that while in graduate classes.
How long does funding last? Some universities make students reapply every year, which can add a lot of stress to already stress-filled graduate work.
Are fees included in graduate teaching assistantships? Bar-Nadav wishes she had asked this question. She had a $700 fee to pay at the beginning of her first semester after she thought she had a full ride.
Is there a tenure track at the university? The University of Nebraska at Lincoln has 100 percent placement. These kinds of guarantees are advantageous to students in the current job market.
The event finished with a reception where graduate students, undergraduate students and faculty members mingled and enjoyed the free wine and beer.
ladams@unews.com