Students of the University of Missouri- Kansas City's Civil Engineering Program, this week, left the classroom and hit the lanes in a trial run for this year's American Concrete Institute (ACI) Concrete Bowling Ball competition. Concrete Bowling was just one of the events done in association with National Engineering Week, or E-Week. The week is always the week in February that includes George Washington's birthday, Feb. 22. At UMKC, the week was filled with fun events and opportunities for students in the program to meet and mingle with companies that they hope to work with in the future.
The University's American Society of Civil Engineer's (ASCE) chapter rolled out some of the balls they fabricated in their attempts to make a ball that fit this year's entry criteria. One of the members of the team that made the balls, Evan Jones, explained the conditions.
"This particular design problem was the bowling ball was supposed to be extraordinarily lightweight," Jones said. "Most concrete, the density is about 150 pounds per cubic feet. The ideal pounds per cubic foot or the density of that bowling ball that we needed was 82.5 [pounds per cubic foot] so you can see there's a very large difference."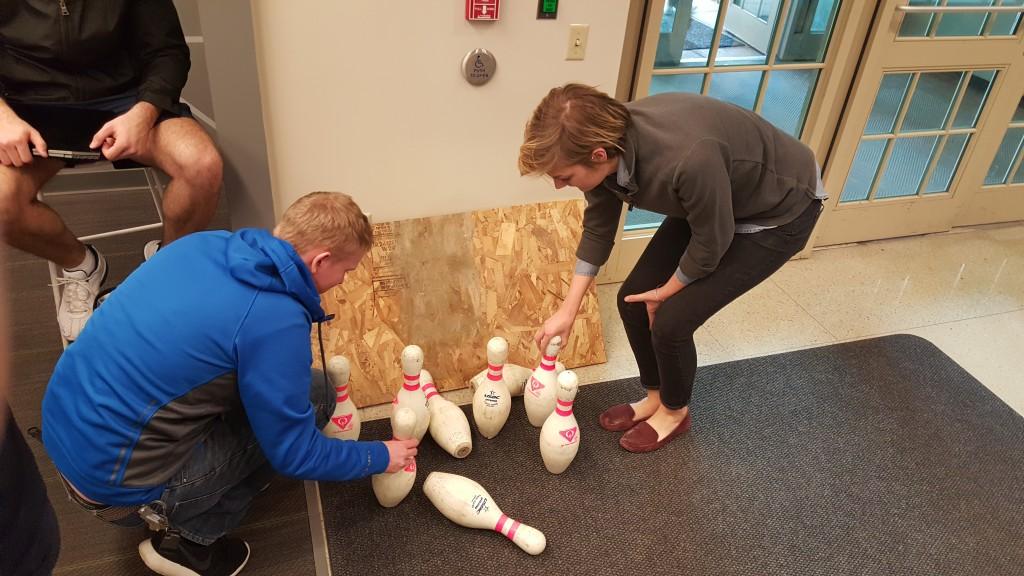 In their attempts to reduce the weight of the bowling ball the team had to alter the composition of materials within the mixture. Another member of the team that is making the bowling balls, Andrew Ramsey, explained how they went about making the lightweight ball for the competition.
"We had to change out the aggregate… and we just basically did the volumetrics on it," Ramsey said. "So we did all the calculations to figure out how much aggregate, how much water, how much cement we need. There's a little bit of guess and check there."
While the process of making a ball itself only takes a couple hours, plus the curing time, the system of calculating a bowling ball's mixture, testing the ball, then adjusting the formula has taken the past several months. Still the team is about five pounds over their target weight.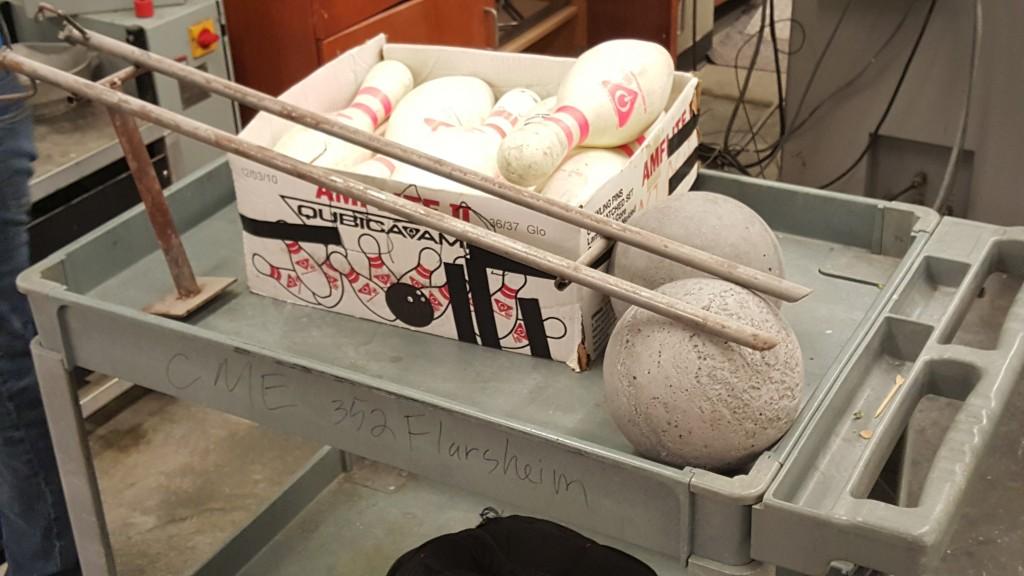 "Our batch density is a bit high," Jones said. "We're actually going to try to make another one today. We think we're one or two tries out from reaching our goal both in terms of strength and density."
The team will be participating in a regional competition in March before competing in the national competition on April 17.