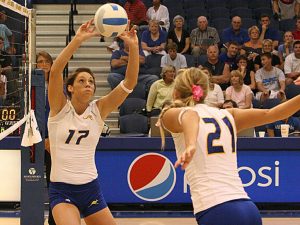 The UMKC womens' volleyball team went up against undefeated Drake last Tuesday night at Swinney Recreation Center. It was the first home game of the season for the women, and Head Coach Geno Frugoli was happy to be playing at home.
"I feel like the renovation and the big crowd really created a good atmosphere," Frugoli said. "We felt very supported and played better."
The women fought hard but couldn't take a set, giving Drake a 3-0 victory.
Despite the loss, Frugoli saw the game as a tough competition to help them in future matches.
"It's just another experience we can take to get us playing well in the conference," Frugoli said.
Frugoli tried to have the women play as many tough games early in the season as possible.
"Five out of the six teams that we've lost to are in the top 100 [of the division]," Frugoli said. "I really wanted to challenge the girls with tough teams in the beginning of the season."
He says tough competition early in the season helps the women execute when it comes time to play against teams in the Summit League.
Drake is simply older. With five seniors on the floor, they have more experience than UMKC, whose team is made up of primarily juniors and sophomores.
Two women leading the Roos were freshmen Chloe Jarema, who led with nine kills and junior Christina Mequine.
"Mequine had six kills and no errors, which was pretty impressive," Frugoli said.
In the first two sets Drake kept a constant lead, but in the third set UMKC kept up. It was a battle back and forth and the Roos had their biggest lead of the game at 15-12. But Drake went on a 5-0 run and kept that top number to the finish.
UMKC's blocking suffered against Drake's 45 kills, but it wasn't just the blocking that Frugoli felt needed improvement.
"I think we need to improve in blocking but we really need to work on chemistry of the girls on the floor," Frugoli said.
With Drake now behind them, the girls are moving into a streak of six Summit League games. They should be able to take the experience of playing some of the toughest teams in the division, develop together and create the chemistry needed for success in the Summit.
kbryce@unews.com