Death is often thought of in a somber manner, with silent cemeteries and solemn faces coming to mind.
The Mexican holiday Dia de los Muertos, however, is a colorful celebration of death shared with family and friends.
The Kansas City Museum, in partnership with the Mattie Rhodes Center, held a festival for Dia de los Muertos on Sunday. People of all ages were treated to live music, food trucks and more.
The festival aimed to bring a piece of Mexican culture to Kansas City.
"We're remembering our loved ones in a really celebratory way," said Jenny Mendez, cultural art director of the Center. "It's such a beautiful way of dealing with life and death together in a really positive way."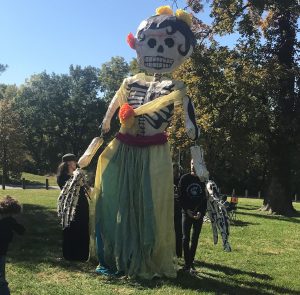 Dia de los Muertos, which takes place between Nov. 1 and 2, is often confused with Halloween. Although both center on themes of death, Dia de los Muertos is a more personal celebration of deceased loved ones.
Although the event was held before the actual holiday, the spirit of Dia de los Muertos ran throughout the festival.
Attendees could leave an offering for a loved one on a large altar guarded by a smiling skeleton. Wandering throughout the event, one could see people, their faces painted to look like a skull, smiling as they stopped to grab coffee or an art print.
"In order to die, you must live," Mendez said. "In order to live, you must die. It's the circle of life."
The holiday may center on death, but it couldn't be livelier.
rhb4k3@mail.umkc.edu