An unexpectedly chilly Wednesday wasn't enough to keep UMKC students from coming out to take a stand against sexual assault and rape culture.
The Violence Prevention and Response Program, the UMKC Women's Center, and the UMKC Student Affairs and Enrollment Management recognized Denim Day USA as a part of Sexual Assault Awareness Month. Denim Day is part of a global campaign to raise awareness for sexual assault.
The Denim Day movement was started as a reaction to an Italian Supreme Court case that overturned a rape conviction. Citing the victim's choice to wear tight fitting jeans, the court claimed this implied consent.
Now, wearing denim on Denim Days is used to speak out against rape culture verbally and visually, and it seen as a symbol of protest.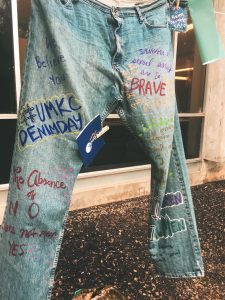 For Denim Day 2017, a vivid display of painted jeans was featured in the Quad. Dean Wayne Vaught welcomed student and activists, followed by Michelle Kroner,  Violence Prevention and Response Manager, gave the history of the event. Brandi Mora, a  survivor of sexual assault, also spoke at the event.
"The one thing that I find that people need the most even whether it's the immediate after math or several years later, is for someone to say, 'I believe you, I believe what you are saying, it's not your fault, I don't care what you were wearing, I don't care what you were doing, I don't care if you made a series of bad decisions,'" said Mora. "We really have to stand up and support our victims."
She warned about the dangers of not letting children feel like their personal space is their own, of not helping people at their neediest points and of victim shaming.
Mora, the other speakers, and the visual displays on Denim Day opened the door to tough conversations about the responsibilities of intervention.
"We have to create an environment where it's not acceptable, and where zero-tolerance is not just a phrase or words that we use to sound good ," said Mora.
aenckd@mail.umkc.edu