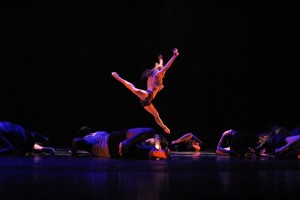 As the Dance Division sums up the academic year with its annual Spring Dance Concert, April 12-14, it also celebrates achieving regional and national recognition for the university. A dance faculty member and seniors received prestigious national honors for academic dance.
In the recent American College Dance Festival – Central Region dance competition, Professor DeeAnna Hiett and the Conservatory's Dance Division received the top honor, winning the privilege to perform at the National American College Dance Festival from May 24-27 at the Kennedy Center for the Performing Arts in Washington D.C.
Hiett's choreographic work, "Without a Word," was first selected by three renowned dance adjudicators to appear in the festival's gala performance. She achieved this honor despite the selection of 36 pieces from choreographers across the nation presented at the Festival. Of these 36 pieces, 11 were chosen for performance at the gala and two were chosen for the Kennedy Center pieces. This particular piece will also be featured in the upcoming Spring Dance Concert.
Additionally, Conservatory senior Kaitlin Heibel received gala performance honors for her choreographic work, "Paradox."
"I was absolutely honored that my piece was so embraced at ACDF," Heibel said. "It was an amazing experience to have such amazing feedback and support for my piece from my fellow classmates, my faculty, the adjudicators, and even other people attending the conference from different schools."
Held every other year, this festival marks high achievement in academic and professional dance.
The American College Dance Festival Association is divided into 11 regions across the U.S., including 364 institutional members. Every year, dance students meet at each regional festival. During the four-day festivals, students have the opportunity to take at least four dance classes. Each participating school may present two choreographic works for adjudication to be considered for the gala, but only two works from each region are selected for the national festival.
Heibel was honored just before her graduation. She is proud to be recognized for her work and is grateful to her peers who made the performance possible.
"I am lucky to have been able to work with such talented dancers," Heibel said. "I would say it was probably the best possible way to finish up my senior year here at UMKC and it has given me confidence and a new found love for dance."
Both Hiett's piece, "Without a Word" and Heibel's work, "Paradox," will be performed at the Spring Dance Concert. Other original pieces by members of the dance faculty include Sabrina Madison-Cannon ("Sanctuary" and "Redemption"), Ronn Tice ("Night Rainbow"), Paula Weber ("White") and Mary Pat Henry (excerpt from "On Cyprus Avenue"). Also on the program is"Red" by guest artist Gary Abbott, the Associate Artistic Director of Chicago's Deeply Rooted Modern Dance Company. Abott recently finished a special residency for the Dance Division.
The Spring Dance Concert will be held at 7:30 p.m. April 12- 14, with an informal, free matinee at 2:30 p.m. on April 14 in White Recital Hall. The concert is free with a UMKC ID and is open to the public for $6 and $8 for evening performances. More information is available at http://conservatory.umkc.edu/conservatory-event-calendar.cfm.
The Wylliams/Henry Contemporary Dance Theater will be presenting their annual spring concert at the end of the semester at 8 p.m. May 11 and 12 in the White Recital Hall. Ticket information is available online at http://wylliams-henry.org/.
nenglish@unews.com