It's that time of year again: time to pick a Kangaroo King or Queen. The court warming theme this year is movies.
Yell Like Hell takes place at 7 p.m. on Friday in the Student Union, where candidates will do their best to make the crowd "go nuts."
"It's the big talent show," said Madisen Breite. "I'm going to end up doing a Disney compilation of songs." Briete is a sophomore pre-pharmacy student. Her favorite movie is Pretty in Pink.
A successful performance can bring in the votes. Voting opens Monday, Feb. 13, and runs through Friday. UMKC students can vote for their favorite candidate at Roogroups.com.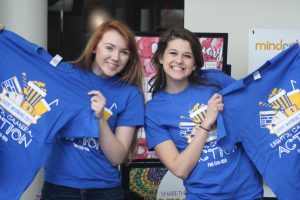 Abigail Brinkmann, a sophomore studying communications, was nominated by Chi Omega. Her favorite movie is The Princess Bride.
"Me and several girls from Chi Omega are going to be performing a dance with a movie theme, which is to be announced," said Brinkmann. "You'll find out on Feb. 17, so you'll have to come to see."
Tuesday is the annual trivia night in Pierson Auditorium at 6 p.m. Teams of four will compete for a chance at winning $1,000 in prizes.
The events begin Monday with a costume competition that runs through Thursday. Each weekday is a different genre of the contest. Monday is action, Tuesday is romantic comedy, Wednesday is drama and Thursday is horror. Students show off their character on campus and to the office of student involvement in the Student Union for a chance to win a prize.
Megan Barb of Delta Zeta is a sophomore studying nursing. Her favorite movie is The Impossible.
"My talent is – we're going to do a dance – to a lot of songs from movies," said Barb. "I think we're doing Dirty Dancing and Footloose."
Questions about any of the court warming events can be directed to Josh Wallace at jw6r8@mail.umkc.edu of the office of student involvement. To vote, visit https://roogroups.collegiatelink.net/form/start/121431.
rhennessy@unews.com