The Democratic Primary race is in full swing, with 20 candidates vying for the nomination. This, of course, means there is no shortage of polls updating the electorate on the state of the race. One recent poll by College Pulse, a survey platform that only uses college students as its sample, shows how the group views the current candidates. When compared to polls of the entire electorate, the College Pulse survey reveals numerous insights into the differing political views of college students.
College Pulse found that students prefer Vermont Senator Bernie Sanders the most at 21%, followed by Massachusetts Senator Elizabeth Warren at 15%. Tied for third are former Vice President Joe Biden and Entrepreneur Andrew Yang at 12%, with South Bend Mayor Pete Buttigieg at 8%.
This contrasts greatly with The Real Clear Politics Average, which aggregates a number of high-quality polls over time to produce an average percentage for each candidate.
According to Real Clear Politics, the top five candidates are Biden at 28%, Sanders at 18%, Warren at 16%, Senator Kamala Harris at 8% and Buttigieg at 5%.
Anyone who follows the "horse-race" closely may be surprised to hear Biden and Yang are tied in the College Pulse survey, given Biden's comfortable lead in the Real Clear Politics Average since he launched his campaign and Yang consistently polling at or below 3%.
One explanation for Yang's support among college students is his appeal to younger voters. Yang even acknowledged this fact in an interview with Teen Vogue.
"A lot of people have told me they've found out about me from memes, which… are naturally more accessible for young people," Yang said.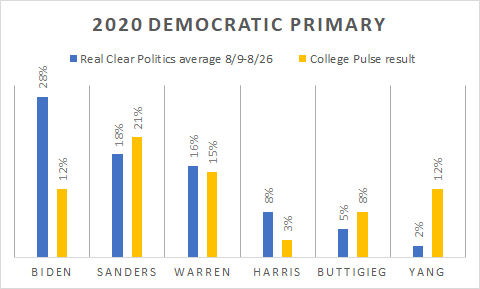 This appeal to young voters works in reverse as well, in Biden's case. Biden's moderate campaign resonates with older voters at the expense of younger, more progressive ones.
Another finding, albeit less surprising, is Sanders' and Buttigieg's support from college students. Young voters make up key voter blocks for both candidates. Sanders outperformed both President Donald Trump and former Secretary of State Hillary Clinton among young voters in the 2016 election, according to the Washington Post, and Buttigieg has emphasized his young age as one of his central appeals on the campaign trail.
Despite the interesting results, the College Pulse survey may be skewed slightly.
For example, the sample does not only include voters who are likely to participate in the Democratic primary. 26% of the sample chose President Donald Trump as their first choice, yet they were still able to choose a candidate in the Democratic primary question.
Based on other polls, it is possible to somewhat anticipate which candidates' results were skewed most, however. For example, a poll from The Economist and YouGov found that both Sanders and Yang both have sizeable support from 2016 Trump voters (14% and 10%, respectively).
Despite these areas for potential error, the results give us a glimpse into how college voters view the Democratic race and which candidates appeal to them most. It is, however, one poll, taken five months before the Iowa caucus and more than a year before the general election, so there is plenty of time for these results to change.
hmgb87@mail.umkc.edu