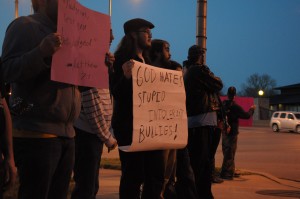 Queer Alliance members, Occupy movement protesters and other supporters of the LGBT rights lined up at the intersection of Cherry and Volker Saturday night to counter the infamous Fred Phelps-led Westboro Baptist Church.
On the opposite side of the intersection, members of the Topeka, Kan. based church, which is classified as a hate group by the Southern Poverty Law Center, protested the grand opening of LIKEME Lighthouse, a local LGBT community center.
The church targeted UMKC because one of the grand opening events was a benefit concert held at the Student Union Theater.
Members, several of whom are lawyers, are known to target college campuses, high schools, funerals, concerts and other venues likely to draw publicity and notoriety.
In addition to brightly colored signs proclaiming god's message of hate for people they believe are not part of his elect, church members, most of whom are descendants of Phelps, sang off-pitch parodies of Lady Gaga and other pop artists, with lyrics twisted to suit their antagonistic message.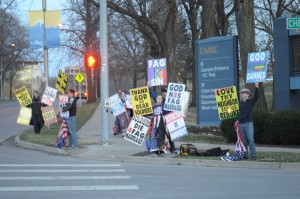 As church members desecrated U.S. and rainbow flags and sang a parody of Gaga's "Telephone," freshman Thomas Schlumm blurted out, "Who sings this song again?"
Outnumbering the church members nearly 3-1, counter-protesters later sang in unison to Gaga's "Born this Way," an anthem of the LGBT community.
Schlumm and his friend Josselyn Saenz, both QA members, held signs reclaiming the words "fag" and "fag enabler" from the handful of protesters across the street.
"They use it as such a bad word," Schlumm said. "A lot of homosexuals have taken it and turned it into a positive thing."
Saenz concurred.
"They're making it seem like a bad thing," Saenz said. "That's what they want to call me, and that's who I am."
Many counter-protesters agreed the church shouldn't be taken too seriously.
"The best way to counter hate speech is with humor," freshman Mark Lauer said.
He made two signs, one reading, "God hates stupid intolerant bullies;" the other, "Cool story bro! –troll face."
Others voiced concern that impressionable youth may internalize the message of hate.
Sophomore Nichole Jenkins, also from QA, is writing a research paper about gay teen suicide.
"They're spreading hate, and kids are killing themselves because of it," Jenkins said. "Sadly enough, some people [do take their message seriously] because they are overwhelmed with hate."
Anderson Razlplaz, a Penn Valley Community College student who attended the protest, said he hoped the counter-protesters message of love and tolerance would resonate loud and clear.
"We're here because we don't hate everyone," Razlplaz said. "They do."
Andrew Gudeqston, of Occupy KC, agreed.
"I stand here because there's absolutely no reason to hate people simply based on their beliefs," he said.
Another Occupy supporter, Jeremy Jackson, was visiting Kansas City from Adelaide, Australia.
"I'm here to advocate human rights and equal rights for everyone," he said. "We bring a message of love, not hate."
Motorists honked and screamed in support of counter-protesters.
Several UMKC police officers were present, and one counter-protester was arrested. Information regarding the arrest was not immediately available from the UMKC Police.
Church members arrived at the scene shortly after 6 p.m., and counter-protesters arrived soon after. Both parties left around 7 p.m.
nzoschke@unews.com