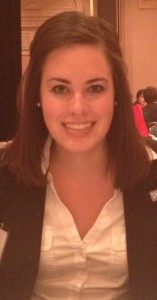 Beth Larson, the president of Students in Financial Enterprise (SIFE), is graduating with double degrees with a Bachelor of Business Administration-Enterprise Management and Bachelor of Arts-Communication Studies.
Larson has been in school for five years and has transferred between three universities. She finally stuck with UMKC and for three and a half years.
"My favorite place near campus is Pizza 51," Larson said. "They have delicious food and a really cool atmosphere. Their house salad dressing is the best I've ever had! I enjoy grabbing a slice of pizza and sitting out on the patio when the weather is nice out."
Larson is happy to be graduating. She has many fond memories of UMKC.
"My most memorable experience at UMKC is Relay For Life," Larson said. "An alumna from my sorority was diagnosed with Leukemia while at UMKC and she was the driving force behind bringing Relay to our campus – so it's something very special to me. Everyone has a blast at it – walking laps, playing capture the flag, and in the contests they have like the dance-off."
After graduating, she plans to work as analyst with a company in Kansas City.
Her goal is to come back to UMKC's Bloch School for an MBA.
Larson has few regrets over her academic degree, but she said, "If I could change anything about my time at UMKC, it would be going to more athletics events. The games that I did go to were always a lot of fun – but I wish I would have gone to more."
Her favorite courses were Public Speaking for Professionals taught by Dr. Linda Kurz and Organizational Effectiveness and Leadership taught by Dr. Pamela Dobies.
"Both classes were difficult and challenged me academically but they were rewarding," Larson said. "I learned a ton about myself and gained valuable knowledge and skills to help me in my future.
Larson said her classmates, SIFE teammates, and members of Delta Rho had the most impact on her UMKC experience.
"They were the people that I hung out with on campus and spent my most time with," Larson said. "Whether it was studying for a DSOM test with other Bloch students, practicing the SIFE Presentation on the roof of the Student Union, or participating in a campus scavenger hunt on campus with my sisters – those were the times that I felt the most tied to campus and really felt like UMKC is my home."
Larson shared advice for incoming freshman.
"You get out of it what you put into it," she said. "Get involved with student organizations, make new friends, and be open to new possibilities and the doors that open for you. You never know when & where you'll meet your best friend, a potential employer, or discover a new hobby. Especially if you come in as a transfer student, it can be hard to meet people and feel like you are part of the UMKC community. You have to try new things and put yourself out there. Get involved, get great experiences, and make great memories."
ladams@unews.com