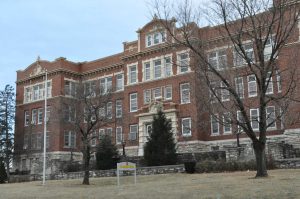 In March 2010, the Kansas City, Missouri School Board (KCMSD) voted to close 26 of the district's 61 schools.
The district, faced with a $50 million budget shortfall, had seen its enrollment decrease from a peak of 75,000 students in the late 1960s to fewer than 17,000 by the 2010 school year, according to district data.
In December, a total of 39 KCMSD-owned buildings sat vacant, some in serious disrepair, including several buildings that have been vacant for years.
Vicki Noteis, a former director of urban planning and development for Kansas City, was invited to teach a fall studio class at the College of Arts and Science's Department of Architecture, Urban Planning + Design (AUP+D).
Students in her class of senior AUP+D majors developed a proposal to repurpose the closed schools.
"We chose this project because it's very complex, topical and important to the community," Noteis said. "We hope the community will see the big picture instead of focusing on just one building. People need to have a sense that they're all in this together, instead of feeling like they're isolated."
Students in the class worked closely with the Studio Advisory Group, which includes a city planner, KCMSD advisory board members, and the presidents of the American Institute of Architects and Urban League of Greater Kansas City.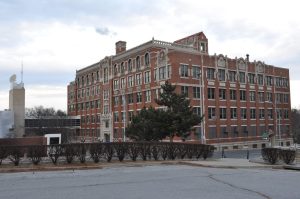 AUP+D professor Dr. Jacob Wagner, who worked with Noteis' studio class, said the advisory group helped the students.
Wagner said students divided the Kansas City school district into Northern, Central and Southern east-west zones.
"Kansas City has historically been divided east to west by a racial line along Troost," Wagner said. "That historic reality of residential segregation is part of the school district's legacy, its challenge and its history."
Before students submitted repurposing plans, they spent 20-30 hours a week researching each building and the demographics of the surrounding neighborhoods.
Some buildings, such as Westport High School and Westport Middle School, which students determined would be easy to sell due to their location and ease of reuse, would be sold to private developers.
Some buildings had unique architectural features, which Wagner said could appeal to a developer looking to utilize historic tax credits.
Other buildings would be repurposed by the district.
Each zone has its own focus and a catalyst center designed to benefit the community.
"In the northern zone near downtown, you have a lot of business and government and a lot of neighborhoods east of downtown that have an increasing school-age population," Wagner said. "There's also a need for business development. The idea was to turn one of the schools into an incubator for business development and neighborhood businesses."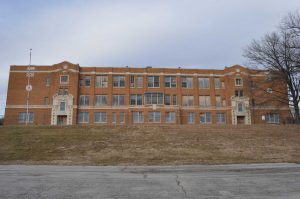 Woodland Elementary, located east of downtown, was the recommended site of a business and technology center.
Because the Northeast area has an increasing school-age population, it was recommended that the KCMSD mothball several schools, meaning they would sit vacant, but be preserved for future reopening by the district.
According to Wagner, mothballing buildings would save money over the long run and prove cheaper than opening a new facility.
The Central Zone, located between I-70 and Brush Creek, had an urban agriculture focus.
"You have a lot of neighborhoods east of [Volker Campus] and near the Green Impact Zone that have a lot of vacant lots," Wagner said. "You need a strategic management of all that vacant land. Urban agriculture is one way to take that vacant land and make it more productive and useful to the neighborhoods, but that's not going to happen without awareness."
To accomplish this, Seven Oaks Elementary would be turned into an urban agriculture center.
The Southern Zone would have an environmental education focus, with Knotts Elementary serving as a catalyst center.
Students also developed the framework for a community engagement process, intended to involve community members in the process of repurposing the closed schools.
"These buildings are a public resource and it's in the public interest to plan for their reuse," Wagner said.
The culmination of the students' efforts was a public presentation on Dec. 16, which Wagner said was well-attended by school board members and the public.
"The reception was extremely positive," Wagner said. "They were glad our students had done the research and produced a very professional product that the school district can use."
nzoschke@unews.com