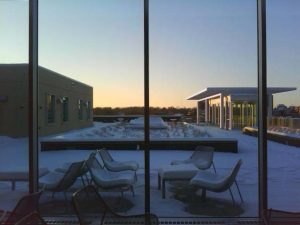 Almost every student enjoys a snow day.
However, a lot goes into the decision to cancel class, and it does have some far-reaching effects.
"We're dealing with weather patterns," said Interim Vice Chancellor of Administrative Services Robert Simmons. "There are a lot of variables that factor in in making the decision that we try to take into consideration."
The final decision to cancel class lies with Chancellor Leo Morton, but Simmons said there are three main criteria he looks at before making a recommendation to the chancellor.
One of the main factors is the condition of the sidewalks, parking and streets surrounding the campus.
"We evaluate the conditions, and then in terms of that it's been snowing overnight, we work very early to get them to safe conditions when students arrive or staff arrive for work and classes," Simmons said.
The administration also examines the conditions of the city as a whole. Because UMKC is a commuter campus, highway and street conditions around Kansas City also factor in.
"Students and professors come from all over the city, so we look at what the street conditions look like," Simmons said.
The third factor affecting school cancellation is the forecast.
"Is there going to be continuing precipitation?" Simmons asked. "Have we seen the worst of it, are there high winds? We take all those things into consideration, whether it's at four in the morning or later. These [forecasts] help us determine what's going to happen in the morning with a cancellation or in the afternoon with an early dismissal or a cancellation of evening classes."
The cancellation of classes has several consequences.
One of the most important is making up the classes that were missed.
"After cancelling classes, it basically becomes the task for the faculty member to decide how they're going to adjust their curriculum for that missed day," Simmons said. "We don't make up days like people would have been used to in high school, higher education doesn't really work that way. Not everyone may be affected; some classes may not even be affected at all. It goes back to each and every faculty member. How are they going to adjust their syllabus? There's an effect on the students, because there may be exams that they may need to reschedule."
If the campus closes in the middle of the day, university policy says faculty and staff must still be paid for that day, which has a financial impact on the university.
"It does have a lot of effect on people, that's why we're very careful," Simmons said. "It's not a science, I wish I could plug some numbers in a computer and figure it out."
Even after the campus closes, not everyone gets to go home.
Almost 150 employees stay on campus to make sure everything's running smoothly.
"They're the ones cleaning the streets, police and the food service," Simmons said. "They get paid overtime, because the campus is closed and they have to stay as situational-critical employees. UMKC cancels school differently than others because of the commuter population."
"It varies a lot, and we do have 1,500 students who live on campus, so we have a pretty good residence population," Simmons said. "But because we do have more students who drive in from other areas, we cancel more than, say, MU or KU, [which] have a higher percentage of students who live on campus or near it. We cancel about the same or less than Metropolitan Community College or Johnson County Community College where everyone's a commuter student there, so [we cancel] less than a community college."
Simmons said on average, UMKC closes campus two-three times a year, and while he feels the administration usually makes the right decision, it's never an easy choice.
"I'd say I'm pretty comfortable with our decisions," Simmons said. "You just have to acknowledge that you're not going to make everyone happy with it. There will be a large number of people who say we should have closed or stayed open. Either way you make the decision, you're not going to make everyone happy, in part because it's a judgment call and there's not a clear formula, so you have to accept you're going to make the best decision based on everything you know."
tsheffield@unews.com