To many, Legos are a simple, classic toy. At Union Station's newest exhibit, Art of the Brick, however, they are the medium used for fantastic works of art.
The exhibit features recreations of classic paintings (Mona Lisa, The Scream and Starry Night for example) and famous sculptures (Michelangelo's David, The Thinker)—all made entirely out of Lego bricks.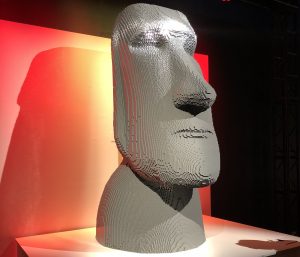 The pieces are the work of artist Nathan Sawaya, a former New York corporate lawyer who left his job to pursue his passion for the toy.
"I tried to put some emotion into this children's toy, this rectangular brick," Sawaya told The Kansas City Star. "You're looking at years and years of my life here."
Art of the Brick has received rave reviews from critics. CNN called it one of the world's "must see" exhibits, while the New York Times said, "It is difficult to walk through this exhibition and not smile in amazement."
The ambitious creations include an enormous figure of a Moai head from Easter Island, composed of over 70,000 Lego bricks, taking two months to create. Sawaya also spent three months on building a T-Rex skeleton which used 80,020 pieces.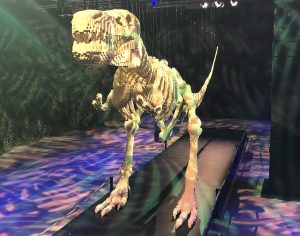 Sawaya's best-known piece is titled "Yellow", which portrays a man ripping open his chest with yellow Lego bricks spilling out. He attributes the popularity of the piece to how we appreciate the cathartic experience of opening ourselves up to the world.
"A lot of my work suggests a figure in transition," Sawaya said in a statement. "It represents the metamorphosis I am experiencing in my own life. My pieces grow out of my fears and accomplishments; as a lawyer and as an artist, as a boy and as a man."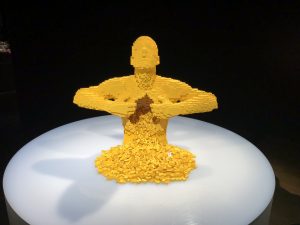 The exhibition will run at Union Station through Memorial Day. Tickets are $15.95 for adults and $12.95 for children.