When you think of the east side of Kansas City, urban areas around the nation and poor nations around the world, you can picture poverty, crime, food deserts and urban blight. On the east side of Troost, that reality is vividly so. One thing that shows the heart of the people who dwell there is the remnant of those who have fought against this plight. I was recently able to sit down with one.

Meet Dre Taylor, the 35-year-old Kansas City native who is making history. Taylor is an urban farmer who started east Kansas City's first aquaponics greenhouse—a natural farming system that grows fish and plants, together—and will be one of the only commercial producing greenhouses of its kind—for Kansas City.
The "Nile Valley Aquaponics 100,000 Pound Food Project" is located on 29th and Wabash Ave. You would never think to see this area joined with something of this type but it's happening.

"Sometimes you just have to do it," Taylor said. The aquaponics system combines aquaculture and hydroponics, creating a self-sustaining ecosystem where famers can capitalize on a natural process for "raising fish and vegetables," as Taylor describes. The 100,000 pounds in the project's name is a yearly output of fresh fish, vegetables, fruit and more. This will immediately serve the heart of food-deficient zip codes, providing free healthy food for the surrounding community.

"Everybody's loving it," Taylor said. "I've had no bad experiences," when referring to the neighborhood in that area. Taylor was excited about providing the neighbors with free, locally grown food, probably as excited as they are to see him doing the work right outside their homes. He pointed out a few houses of neighbors he knew. He has exchanged numbers with them and one has even given him keys to a house there, showing how the project is creating community.

"The community looks out for me if anything [with the greenhouse] looks unusual," Taylor said.

Taylor developed this idea a year and a half ago, inspired by Will Allen the retired NBA player turned urban farmer who made the 2010 list of Time Magazine's 100 most influential people in the world. Taylor met Allen, came back to Kansas City and made his idea grow. Now he's about 70 percent done with the revolutionary act of bringing healthy food in a place surrounded by food that is detrimental to human health.

"There's no access to healthy, organic food," Taylor said. "In a five block radius you have three fried food places, a liquor store and a Chinese restaurant."

When looking at the statistics of what's killing Americans, specifically African-Americans, one should understand how vital this is for our communities.

This project has the attention of every prominent player in Kansas City- from stores and organizations wanting to buy food, local governments interested in what he's doing, and philanthropists from notable families. Taylor has even created interest from groups in Africa, Australia and Haiti.

"The ultimate goal," Taylor said "is to create a sizable template that can be duplicated around the world. I expect a global impact. I think more people will implement this where they're at."

This leads to the building of two more greenhouses on his land that will serve other purposes besides aquaponics, and he's even thinking about starting a market. A healthy market right here on Wabash? Who would've thought that someone from this area would build something to help this area. Taylor states that he aims "to be self-sustaining" while pushing African-Americans to do for self.

This project has even caught the attention of UMKC's director of Urban Studies and co-founder of the "Center for Neighborhoods," Dr. Jacob Wagner. Wagner visited Taylor's greenhouse recently and brought some of his students.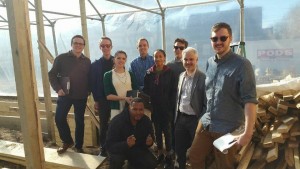 Taylor also runs a mentorship program for boys that focuses on rites-of-passage manhood development. The program addresses issues such as self-esteem, self-awareness, adolescent fatherhood, violence, economics, drug abuse and more. "Males to Men" meets every Monday and Wednesday, from 6 to 8 p.m. at the Mary L. Keller center. Everything from free boxing lessons, farming, hunting, self-defense, aviation training and more, is provided for boys in Kansas City's low-income areas.

Nile Valley Aquaponics has received 90% volunteer help, has had lots of thing donated, spent $50,000 and will provide 5-7 jobs when it's complete. Needs will be filled, crime will be curved from the creation of jobs, lives will be extended by the infusion of healthy foods and Kansas City can look to Dre Taylor as a leader of the coming transformation. To learn how to donate or volunteer, visit www.malestomen.com.