Colin Firth
On the red carpet:
The 83rd Academy Awards began with its famous red carpet full of hits and misses of style.
Many actresses graced the red carpet with designer dresses from previous years. Marisa Tomei wore a beautiful 1950s archive from Charles James. The color and ruffles at the bottom looked great but I don't think the dress was the best fit for her body type.
The second attention-grabbing dress was worn by Oscars host Anne Hathaway. Although she and James Franco received mixed reviews as hosts, Hathaway gets top marks for her red carpet look.
Hathaway wore a Valentino dress, which was archived from 1981. It was beautiful on her, and the red dress was perfect for the occasion. Rachel Zoe, her stylist, hit it on the mark with this dress.
The third look of the night was Calvin Klein's gold dress on actress and singer Gwyneth Paltrow. It fit her body perfectly and looked perfect during her performance at the awards.
The fourth show-stopping dress belonged to Natalie Portman. The vibrant purple dress, a Rodarte silk chiffon gown, showed off her baby bump.
The last memorable look of the night was Sandra Bullock's red dress. Vera Wang made magic with the dress, and it made Bullock stand out.
There were big hits and big disappoiments. Helena Bonham Carter's dress looked like an appearance from a medieval queen. Oscar-nominee confidence makes her a best dressed in my book, but the dress was truly ugly.
Natalie Portman
The show:
The opening of the show was hilarious. It followed Franco and Hathaway through all the popular movies learning how to be great hosts (obviously it did not help).
This year's Oscars featured more tributes to movies, actors and directors than previous years. I had many favorites.
My favorite tribute was about past winners of Achievement in Art Direction and Achievement in Cinematography. The two movies chosen were "Titanic" and "Gone with the Wind."
I have to admit I teared up seeing the tribute to "Titanic."
My second favorite was before the presentation of Best Original Song. The tribute was to the "Star Wars" and "ET" themes.
My last favorite was a tribute to legendary African-American actress Lena Horne. Celine Dion sang during her tribute and Halle Berry presented it.
My favorite part was the last slide with one of her famous quotes, "It's not the load that breaks you down. It's how you carry it."
Overall, I was not impressed with Franco and Hathaway.
Franco looked bored and uninterested and Hathaway acted like an annoying cheerleader. It was sad to see such a poor job being done.
The most hilarious moment was Melissa Leo dropping the F-word mid-acceptance speech for Best Supporting Actress.
Co-star Christian Bale even made a joke about it in his acceptance speech for Best Supporting Actor.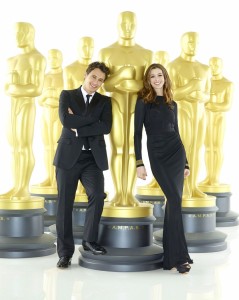 Here are the main award winners:
Best Actor in leading role: Colin Firth "The King's Speech"
Best Actress in leading role: Natalie Portman "Black Swan''
Best Supporting Actor: Christian Bale "The Fighter''
Best Supporting Actress: Melissa Leo "The Fighter''
Best Motion Picture: "The King's Speech"
Best Animated Film: "Toy Story 3"
Best Adapted Screenplay: "The Social Network"
Achievement in Film Editing: "The Social Network"
Achievement in Cinematography: "Inception"
Achievement in Visual Effects: "Inception"
pbarra@unews.com