Any students looking for a break in the midst of their weeks can join members of The African-American Student Union every other Wednesday on the second floor of Student Union to celebrate HUMP Day.
"We created HUMP Day, which gives us an opportunity to wind down for the week, listen to some good music, and play some games," said TAASU student President Allen Williams. "The last HUMP day was done in conjunction with the Student Multicultural Affairs Office, and we opened it up and played Taboo [charades], which was a lot of fun. It's a time to turn up."
TAASU's bi-weekly HUMP Day celebrations are held with the intention of not only giving students a break amidst their busy weeks but also as a way of growing TAASU membership through introducing the organization to a host of new students. The next HUMP Day is scheduled for Wednesday, September 21st.
TAASU was first introduced to the university in 1969, making it one of the oldest multicultural organizations at UMKC.
"TAASU is an opportunity to help build more sense of community amongst the African-American students on campus. We like to host events around everything that falls into the guidelines of creating a community to celebrate our culture," said Williams. The mission of TAASU is to not only build a sense of community but to be a voice for the African-American student population of UMKC.
TAASU is for "anyone who just already has passion and enjoys some of the many aspects that the African-American culture consists of, if it's food, celebration, or just the history of that population," said TAASU advisor Keiscanda Dees-Burnett. "Anyone just wanting to know more or wanting to be connected, or wanting to be more aware of the needs of our African-American student population would enjoy going to our meetings and events."
For many members, TAASU has become an organization they can be a part of to feel more connected on campus and has made their college experience a lot more enjoyable.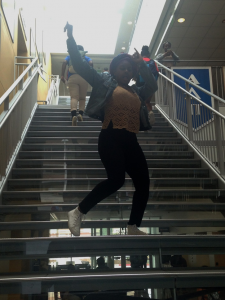 "My freshman year I didn't do anything on campus. I just went straight home. The second year, I hated it, so some people told me, 'The only way you're really going to enjoy your college experience is if you get involved,'" said TAASU student Vice-President Bria Douglas. "So that gave me time to look on the outside of all that will be taking place on campus, especially in the Multicultural Student Affairs Office, and I found my people and got involved with TAASU."
Among the office of Multicultural Student Affairs, TAASU is known as an extremely welcoming group.
"My favorite part about TAASU is the sense of unity amongst that organization. It's like a family, even though we obviously aren't a family," said student President of the Multicultural Student Organizations, Jamie Powell. "When you get involved in the organization, it's instantly a welcome feel."
TAASU offers students many ways to get involved with their organization. In addition to their bi-weekly HUMP Day celebrations, weekly meetings will begin after their general body kick-off September 19-23, during the Black Alumni Weekend. The weekly date and time of the meetings will be announced during that week.
Through the year TAASU will also host the 27th annual Freedom Breakfast, Soulful Friday, the Legacy Conference and other seminars that often deal with subjects of social injustices.
Anyone interested in joining or learning more about TAASU and their upcoming events can visit their Roo Group page at https://roogroups.collegiatelink.net/organization/umkc_TAASU.
epark@unews.com