The nation is up in arms about concurrent debates surrounding DACA and gun control.
A CBS poll said nine out of ten Americans support providing citizenship for DACA recipients.
"The DREAM Act has the public's support," said Ari Shapiro on NPR. He then asked Illinois Senator Dick Durbin, a champion of the issue, what more he needed.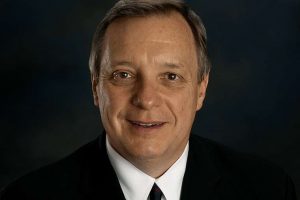 ". . . Nine out of ten Americans are for universal background checks on guns," Durbin said. "Yet Republican leadership in the House and the Senate and in the White House have refused to take up these immensely popular issues."
A disregard for gun safety in schools and colleges, plus an unpopular effort to deport children brought to the U.S. illegally endangers millions of youth. These twin debates over gun violence and DACA, taken together, constitute a war on children.
There were 38,000 deaths from firearms in the U. S. last year, more than 90 deaths per day. Americans want a path to citizenship for 13 million illegal-aliens, and that path is stalled.
Durbin spoke with NPR recently about Senate changes regarding DACA.
"It was about rejecting the notion that we are a nation of immigrants," said Durbin. "To deny our birthright as a nation is to really defy who we are, what we are, and what we will be."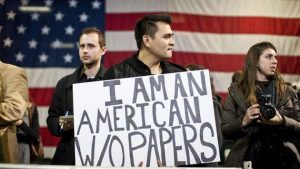 Philippine born journalist Jose Antonio Vargas has lived in the US for more than 20 years. He has earned recognition as a journalist, even winning the Pulitzer Prize.
When Vargas was 12, his mother sent him to live with his grandparents in the San Francisco Bay area. He began working as a student, paying state and federal taxes, but he added, "I was using an invalid Social Security card, writing false information on my employment forms."
Vargas has educated himself, and written for several prestigious papers, including The Washington Post. He and millions like him face deportation unless something is done.
Millions in our country are forced to live outside the traditional economy, having neither credit cards nor proper identification. That makes it difficult to have exact data on our citizens; to maintain our country's stringent policies on immigration, and to enforce the laws that affect our privacy.
In a separate, but related issue, Government uncertainty also impairs the gun control debate.
The constant partisan bickering has us on edge. Powerful right-wing lobbies stand in the way of workable solutions to school gun violence and right-to-carry laws advance the proliferation of handguns and automatic weapons.
Gun violence continues, five years after 20 students and six of their teachers, were mercilessly gunned down in New Town, Connecticut. New Town parents and concerned citizens continue to speak out, attempting to make sense of the tragic violence at Sandy Hook Elementary School.
Saxophonist Jimmy Greene, a celebrated recording artist, has now made two recordings honoring his daughter Ana, lost to the Sandy Hook violence.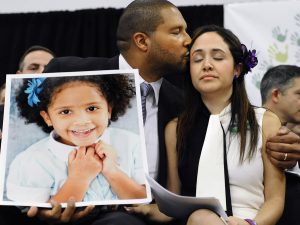 "Ana was born on a Tuesday morning, in early April," wrote Greene in the liner notes of Beautiful Life, his 2014 Mack Avenue Jazz release. "Her life was ended in her first-grade classroom, on a Friday morning, in mid-December—six years, eight months and ten days later,"
In the aftermath of the recent Parkland, Florida shootings, another town makes the grim list. A discussion has arisen over mental health issues.
Yet, a doctor speaking on NPR about the issue said, "Psychiatrists cannot and will not predict a patient's future behavior," adding, "doctors treat symptoms."
There is the suggestion, even a rush to arm teachers, which could ultimately be impossible for school boards and their insurance companies to regulate.
Disregarding our traditions and our future, President Trump weighed in on Parkland, by suggesting an unconstitutional act.
"Take the guns first, go through due process second," he said.
A poorly thought out quip such as this reinforces distrust of government. It brings out strong emotional feelings about Second Amendment rights and continues the stalemate on much-needed legislation.
The war on children is attacking the next generation on several fronts. Guns in the wrong hands end young lives; our country's future contributing citizens, are experiencing fear and a loss of human rights, as families are torn apart by violence and an immigration crack down.
To end this war on children we all need to act: voice our opinions, take to the street, write to our representatives and most of all, register and vote.
dbv98@mail.umkc.edu
Feature image source: Arms Around the Child