Restaurant Review: Beer Kitchen
Westport dive serves up Americana-style food,boasts extensive drinks list
Walking in from the cold, I was immediately greeted by a smiling hostess and the warm, relaxing ambiance at Beer Kitchen, 435 Westport Road.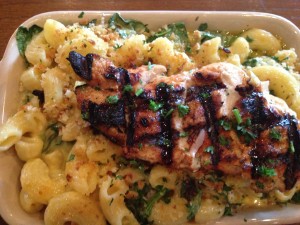 I was seated in the middle of the dining area, and my server quickly took the drink order and returned within a few short minutes.
At this point, I was feeling positive, but when the server brought back the first drink order–– water and lemon––I was somewhat disappointed that she only returned with half of my request–– the lemon was missing! Not a huge deal, but it gave a slightly negative impression.
An assortment of 'feel-good' snacks and starters on the menu include deviled eggs, pretzel twists, black-eyed pea hummus and nachos.
As tempting as they seemed, I decided to skip the snacks and starters. Instead, I decided to choose from the multiple styles of hand-cut and cheese fries as an appetizer. There are also seven styles of dipping sauces, so there is little worry of choosing the same thing twice.
After ordering a basket of Belgian Style fries with Sweet Thai Chili sauce, I decided that I would skip my love for breakfast entrees in the evening, at the request of the server, and build my own macaroni and cheese. It sounded too good to be true, but it does exist! The macaroni and cheese runs $11, but even for a student, this meal was worth it money-wise.
There are also build-your-own omelet and lunch box sections, where patrons can choose an appetizer and main course for less than $10. Patrons may select from a variety of meats and veggies, and the choices are anything but boring.
This was a meal suited for a hungry student, like myself, who tries to buy economical meals where leftovers will be an option.
Beer Kitchen also has a great happy hour options and prices, including beer, cocktails and food.
At an establishment like Beer Kitchen, it's known that you're getting yourself into something good, as they say, the minute you walk in and are greeted by multiple hanging tap handles enticing patrons from the dining area.
Not a beer drinker? The drink choices are also fantastic and not too steeply priced.
The only problem I had with the meal is that it was definitely not something you want to eat if you have things to do later on – it will knock you out!
Perhaps one of the burgers or salads would have been better choices, considering that I passed out from a carbohydrate takeover once I left.
Overall, things went smoothly; the Americana-style food, delectable beer and drink lists were enough to entice another round.