Conservatory: Third 'Bach's Lunch' showcases UMKC talent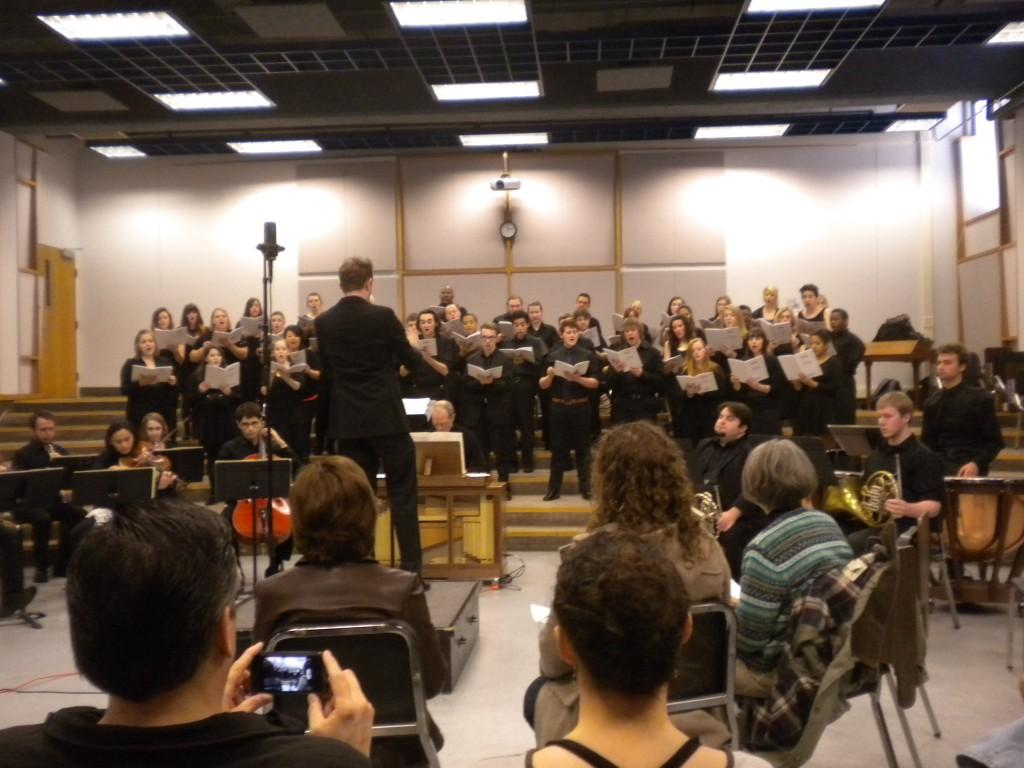 A musical ensemble of 14 instruments with a choir of over 50 may not seem a very appropriate accompaniment to a leisurely noon-time lunch, but with the selection performed by the Conservatory, it fitted perfectly.
Directed by Gabriel Lewis-O'Connor, the Conservatory performed J.S. Bach's "Gott der Herr ist Sonn und Schild, BWV 79", translated to "God the Lord is sun and shield."
The piece itself was composed in 1725 and was performed for the first time on Oct. 31, Reformation Day, of that same year. Honoring Martin Luther's nailing of The 95 Theses to the doors of the church and the beginning of the Protestant Reformation, Bach employed a set of three sections of sound for this piece, the strings, the timpani and brass, and finally the choir. He formulated each to play off of the other illustrating the idea of empowerment and defense through faith.
The seating arrangement was changed for the advent of the choir; the audience would sit in the front of the room where the performers would normally sit while the choir would be on the risen stands where the audience would normally be. This largely was because of the large number of singers in the choir and it was only when the first piece began that it was made clear how this arrangement helped the overall sound.
It's difficult to describe the absolute enormity of the chorus in the first movement. The effect was cosmic. From the second the choir began to sing the audience was taken back by an immense wave of beautiful choral sound. After awhile, the words blended together into a sound that almost transcended the lyrics entirely.
Working with the choir was a brass section made up of two French horns. The brass section was accompanied by timpani drums. together, they played in a way that invoked into the listener, though they were drowned out at timesby the choirduring the fifth movement there is a duet between a soprano and bass instrument. The lyrics plea to God for protection in exchange for faith and praise. The strings act as a counter to the voices playing close behind them, quietly enough so as to not overshadow them, yet loudly enough to make their presence ominously known to the audience.
This performance was different from the past Bach's Lunch works in that it emphasized the theatrical elements of every instrument and choir member. Coming together, they created a work of incomparable beauty overflowing with power in constant surges of evocative sound.