Lecture guest Dr. Ronald J. Stephens could be selected to lead UMKC Black Studies program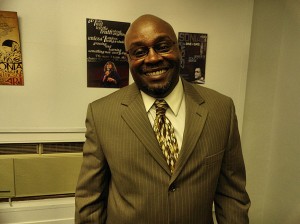 The UMKC Black Studies Program began seeking and reviewing applications for a new director and professor for its department in November.
The program's courses explore the roles, conditions and circumstances of people of African descent. Its purpose is to provide students with an understanding of the significant contributions made by those people, and the impact they have had on history, society, humanity and culture.
In a lecture presented last Thursday at the Black Studies Program house, 5305 Holmes Rd., titled "The Legacy of Arthur Braggs Idlewild Revue," Dr. Ronald J. Stephens discussed his books "Idlewild: The Black Eden of Michigan", and "Idlewild: The Rise, Decline, and Rebirth of a Unique African American Resort Town."
Dr. Stephens is in the running for the new position at UMKC.
He is currently the director of the African American Research and Services Institute and professor in the Department of African American Studies at Ohio University. Stephens' work has been featured on NPR, The History Channel and even in documentaries and museums.
If the energy and passion with which Stephens conveyed his expertise in the classroom is equivalent to that with which he presented his lecture on Idlewild for UMKC, his students are in for an engaging experience.
"By 1959, Della Reese had become a legitimate, bona fide artist," Stephens said during his presentation, walking the audience through a timeline of events surrounding African American entertainers that toured the country over several decades.
"She had appeared on the Ed Sullivan Show, she had record contracts with major labels at the time and she was performing in Las Vegas," he said. "In fact, she tells a story years later about what made her experience as an artist during this era different from her experience working with Arthur Braggs in that although she was able to perform in Vegas, she had to go through the back door in the hotels in order to do so."
He added, "But with Arthur Braggs, she learned the whole gimmick: How to dress; how to have grace onstage; how to produce an act in and of itself. That she learned from Braggs."
Clearly devoted to his areas of expertise, Stephens welcomed questions from the audience, and answered them enthusiastically and thoroughly.
"I think the idea that it's an urban campus, that there are opportunities to work with both graduate and undergraduate students, that the curriculum for the Black Studies Program is solid, and that the core faculty are familiar with their work, were all factors that influenced me," Stephens said of his interest in UMKC.
Added Stephens, "Arthur Braggs and the Idlewild Revue actually toured Kansas City twice. Once was in 1959 at the Orchid Room on 18th and Vine Streets. That whole Vine Street area and the redevelopments that are taking place is also an appealing attraction. I'm interested in historical preservation and tourism, so I would add that those are also reasons that UMKC became attractive to me."
The Black Studies Program has invited another candidate for the position who is lined up to give a presentation after Spring Break. It has not yet disclosed when it will make its final decision.
According to Stephens' Ohio University faculty page, "He strives to inspire students to be change agents. This often means engaging students in discussions about difficult topics, critical issues and examples of injustice." His delivery style is one that aims to "encourage, inspire, and challenge students to think outside the box."