Pulitzer Prize-winning author Richard Ford speaks at Plaza Library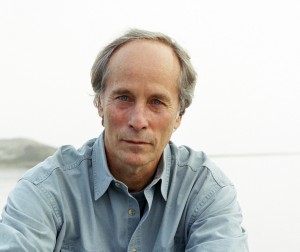 Richard Ford, Pulitzer Prize winning author promoted his new novel, Canada, at the Kansas City Public Library plaza branch. Part of the Writers at Work series, Richard Ford's reading and interview was conducted by UMKC Writer-in-Residence, Whitney Terrell.
Raised in Jackson, Miss., Ford is a self-proclaimed "child of the library." His father was a traveling salesman during the week so he, Ford, was essentially the son of a single mother. His mother would "dump" him at the library every day for hours since it was the only air-conditioned place in town. Ford joked about the men's room being the place where he read his first negative review. Graffiti'd on a stall's wall, it said, "Richard Ford has the dirtiest mind in Jackson, Mississippi."
"Canada" tells the story of Dell Parsons, a 15-year-old boy who manages life in the wake of his parents' imprisonment for bank robbery. Set both in Montana and Canada, it covers Parsons' life over the span of nearly five decades.
Despite the serious, albeit impressive, material Ford read from the novel throughout the night, Terrell helped to bring out the author's humorous asides on the creative process.
In reply to Terrell's question on how he chose chess as a hobby for his main character, Ford said, "I always think chess is the last refuge of the truly bored."
Dismissing some audience's members assumptions that a writer of Ford's caliber must work on some grand, unmatched plane, Ford talked about his lack of confidence in writing and how, at a certain point in a writer's career, one realizes such a thing is pertinent to creating strong fiction.
"I would write it in a notebook," Ford said about how he collected ideas for the novel, "and tear it out and stuff it in an envelope, which I kept in the freezer of my house."
Ford fielded questions from the audience as well, further dispelling ideas of there always being something larger to inform every line on the page. One member asked him about a particular scene in the novel where two characters are watching football on a television and how Ford decided the teams that were playing in that scene: Nebraska and Missouri.
Ford simply answered that he liked the way those words, Nebraska and Missouri, looked on the page. No more, no less. He similarly answered why part of the novel is set in Saskatchewan, Canada; "Saskatchewan" looks good on paper.
Such unveiling of the writing process, amassing small notes over a 20 year period, was of interest to many budding writers in attendance. One in particular, Joel Haddorff, a senior English major at UMKC, came to the event looking for just that.
"New writers are always worried about, 'Can I finish a novel?' The point Ford was making about that is not finish as much as to stay in the work as long as possible. For me, definitely, a new writer, that was liberating."
As a student of Terrell's writing workshop course at UMKC this semester, Haddorff found the benefits of hearing a seasoned writer talk about craft.
"I actually feel like I picked up a lot, so many little things," he said.