Player Profile: Courtney Frerichs-Track star keeps running into the record book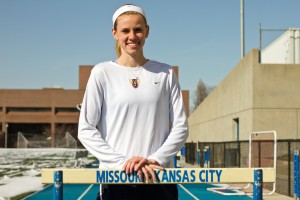 Courtney Frerichs never imagined that track and field would be the sport that would make her shine. During her high school years, she was a gifted soccer player before eventually discovering her real talent: long-distance running.
"I discovered my long-distance talent in my senior year of high school" Frerichs said, "I decided to run cross country to stay in shape for soccer, and then things started going really well."
At UMKC, she recently set three school records in one week.Frerichs crossed the finish line after a mile in 4:55.56 in South Bend, Ind., at the Alex Wilson Invitational ,and set another school record at 5,000 meters when she crossed the finish line at 16:40:16 in Vermillion, S.D.. On day one of The Summit League Championships, she won the 3,000-meter race with a time of 9:46:24.
Frerichs discussed the meticulous planning process for every event.
"Before every event, coach and I sit down with a race plan," she,said. "The only thing that is on my mind while running is that race plan, and I keep thinking to myself if I am executing it correctly."
The indoor season has already ended and Frerichs is now focused on the outdoor season, her favorite part of the year. She described her goals for the season as wanting to qualify for regionals again.
I did that last year as a freshman and I picture myself going to Oregon for the nationals' final round ," she said.
A Chemistry major from Nixa, Mo., Frerichs from the start considered UMKC as the right choice. for her.
"I chose Kansas City because it is not too far away from home and it is in the city, which really caught my eye," she said. "But also the fact that they have a really good science program here at UMKC."
Frerichs did not hesitate when asked about her future dreams in long-distance running. "I would do anything to compete in the Olympics one day," she said. "It is just something I dreamed since I was a little girl, so if I made it, that would just be a dream come true".
When it comes to relaxing, there are two outlets Frerich really enjoys.
"I am addicted to shopping — everyone who knows me knows that," she said. "I also love Starbucks coffee. So if I am really stressed, that's what I do.I also love going back home and visiting my parents. I do it at least once a month."
The track and field team will head to Tulsa, Okla., for the first outdoor competition of the season, the Tulsa Duels. Frerichs will be trying to show she is far from running out of achievements.