Sustainability Corner: RecycleMania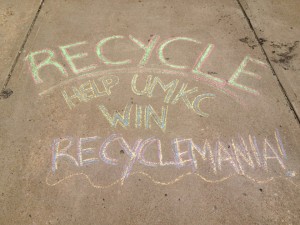 For the past two weeks, UMKC stands at number four out of 275 competing colleges in the RecycleMania Tournament. Another 250 colleges are participating in the non-competitive benchmark division. Colleges in the U.S. and Canada are putting their recycle programs to the test in this friendly competition. From February 3 to March 30, schools weekly report the percentage of total waste that is recycled throughout campus. The goals of the competition are to promote the recycling programs of the campus and encourage individuals to recycle. RecycleMania is also beneficial to track the weekly progress of recycling programs on campus over time.
UMKC started the first week of the competition in 11th place but has moved up to fourth place with a 73 percent recycling rate. Last year UMKC finished the competition at 13th place.
Student Brian Floyd is working with the Sustainability Team to promote recycling to other students. During Recycle-Me-Right! held on Tuesdays at 11 a.m. until the end of March, Floyd educates and encourages students to recycle at the Student Union.
Sustainability Coordinator Kaye Johnston stressed the importance of peer-to-peer education.
"It is much more efficient when students tell other students to recycle. …I've done this long enough to know, students make a difference.," Johnston said.
RecycleMania is a time to encourage recycling across campus. The library has been encouraged to recycle old books and journals through Surplus Exchange. The local non-profit organization breaks down the bindings of books to make such items recyclable. The Sustainability Team is also encouraging department offices to "clean your files". During the competition, departments may request a 90 gallon recycling bin to be delivered to their offices to discard of unwanted files and papers.
Although RecycleMania only lasts about two months each year, the UMKC Sustainability Team provides a long term effort to reduce waste sent to landfills.
Campus recycling efforts have improved throughout the decade. The campus has diverted more than 1,832 tons of waste from landfills since 2005.
In 2003, UMKC produced 881 tons of waste. In 2011, 811 tons of waste were produced, according to a biennial report done by Johnston.
UMKC offers recycling for cardboard, paper, aluminum, plastic, scrap metal, toner and ink jet cartridges, electronic waste and glass. Community partnerships such as Bridging the Gap, Missouri Department of Natural Resources and Mid-America Regional Council and various grants have helped UMKC's recycling efforts. Dining Services has also contributed to the success of campus waste reduction through composting.
The next time you are about to throw something away, ask yourself, "Is this recyclable?"
Utilize the variety of marked recycling bins on campus. By doing so you are helping UMKC be recognized for its increased sustainability efforts and of course, helping your impact on the environment.